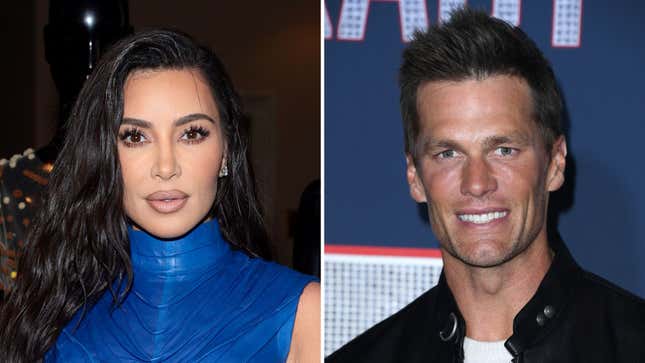 Perhaps the only thing more annoying than the ongoing reports of Kim Kardashian and Tom Brady flirting with each other is how much sense this pairing actually makes.
According to the Daily Mail, Kim and Gisele's ex-husband were both in attendance at the same 4th of July party hosted by billionaire Michael Rubin in the Hamptons. Also in their midst was Beyoncé and Jay-Z, Jennifer Lopez and Ben Affleck, Leonardo DiCaprio, and Kendall Jenner, to name a few. How the CEO of Fanatics, a sports merchandising company, attracts this glitzy of a crowd is anyone's guess!!! (Just kidding, money makes the world go 'round.)

Though the duo previously shut down rumors that they were dating in May, an "insider" from the party told the outlet that Kim and Tom were snuggling up to each other all day: "Kim and Tom were super flirty with each other at Rubin's party and were seen during the day on the beach together and again dancing at night," noting that Brady is "exactly [Kim's] type."

While Kim says she took 11 shots that night, I mean, yeah, a Kardashian and the NFL's anointed GOAT (an opinion I do not share) doing a little romancin' is perfectly logical. Kim has a history of dating beefy athletes (I present to you one Reggie Bush and one 72-day marriage to former Brooklyn Nets forward Kris Humphries). Both seem to be vaguely Republican—Kim probably for tax reasons, and Brady because he's enjoyed a chummy relationship with Donald Trump (and probably also for tax reasons). She's asked him for real estate advice—as she's looking to buy property in the Bahamas where he already has some—and we know men love to give advice! They both have one-syllable names, requiring very little effort to address each other, they're both almost too rich to function, and they both appear to love body modification.

All that said, the timing of this story seems a little too convenient, given that it deflects publicity away from Brady's involvement with the now-bankrupt FTX and the crypto industry's deflated wunderkind, Sam Bankman-Fried. On Thursday, the New York Times published a story detailing the extent of Brady and ex-wife Gisele Bündchen's entanglement with the floundering company. The Times reports Brady signed on as an "ambassador" for FTX, appearing at the company's Bahamas-based conference and in commercials hyping the exchange as "the most trusted" institution. FTX reportedly paid the footballer $30 million in FTX stock, while Bündchen received $18 million in FTX stock. That stock, of course, is currently worth nothing.

Which reminds me! That's another thing Kim and Tom have in common: They've both been in hot water over their shady crypto business dealings. Brady and Bündchen have been sued by a group of FTX customers seeking to hold celebrities who touted the exchange accountable, while the Securities and Exchange Commission in October ordered Kim to pay $1.26 million for not disclosing a paid sponsorship with the EthereumMax crypto token. All of which is to say, their values seem to be perfectly aligned :)

Maybe Tomberly can cry over their losses together. Love is patient, love is kind, love is...mutually defrauding customers out of millions of dollars together.