On Monday night, Blac Chyna sat down for a relatively in-depth interview with Nightline about her ongoing issues with Rob Kardashian, the recently-estranged father of her child who posted a series of explicit Instagrams and tweets about her earlier this month. The interview—some of which first aired on Good Morning America—didn't teach us much more about their situation, but it did shed some light on the inner workings of reality television production.
Near the end of the segment, we learn that the Kardashians have indeed remained mostly quiet on this matter. When asked for comment on the matter, Kim simply sent over a copy of the non-disclosure agreement that Chyna signed to appear on Keeping Up with the Kardashians and Rob & Chyna—not a statement per se, but more revealing than any canned response that she would've provided otherwise.
The agreement, dated June 2016, explicitly forbids the person signing it from discussing a myriad of details about the family members in question, starting with Kris Jenner and ending with Caitlyn, either "publicly or privately." The next bit is more revealing.
G/O Media may get a commission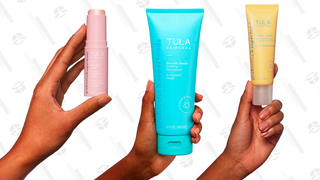 Per the NDA, if any clause in the contract is violated, the person responsible could owe the Kardashian collective no less than $10 million for breach of contract. Chyna's interview with ABC News could broadly be interpreted as a violation of that clause—in the interview, she discusses her relationship with Rob in the mildest of terms. But per the contract, any discussion of "Protected Information"—defined as details of the family's personal relationships or business plans—in interviews and elsewhere is forbidden.
Halfway through the segment, Chyna says, "Rob has hit me before" in answer to a question about the restraining order she was granted against Kardashian. Kardashian and Chyna's reality show does not seem to have a future and the physical abuse Chyna alleges never appeared on any of the family's E! programs. Will we see this part of this story on Keeping Up With the Kardashians? That seems unlikely. If Chyna is asked to pay $10 million for breach of contract—which would not be the first time she has legally battled with Rob's family—that would certainly be bad press, and would be hard for even them to spin.
The matter of whether or not Chyna has technically violated her NDA isn't the focus of this interview—if anything, it's thrown in there like an afterthought. Chyna's lawyer, Lisa Bloom, focuses heavily on the revenge porn aspect, which rightfully deserves coverage. But ABC aired the NDA, albeit briefly, and that was the Kardashian family's tight-lipped response to a scandal they likely wish would just go away.