On the second episode of E!'s six-part limited series and pseudo KUWTK spinoff Rob & Chyna, the two expecting parents make up over a fight about trust issues they had in the premiere, fight about something else (Rob not attending a birthday party at Chyna's house), make up, fight a little more (Rob not attending a Daily Mail party in Cannes), and then make up again. Though the plodding hour didn't give me much hope for the series becoming must-watch television, it did strengthen my opinion of Rob and Chyna as good match—not that my opinion matters.
"It bothers me that Rob never wants to leave the house, and always accuses me of cheating," Chyna says after realizing Rob would not be coming to someone named Patty's birthday party. But her irritation is short-lived. After thinking it through with Patty (honestly who is this?) while cooking meatballs on the grill, Rob calls and explains his reasoning.
"I just didn't want you to see me and give you more reason to not be attracted to me," he tells her over the phone while she rolls around on her bed. (As in KUWTK, much of this show's dialogue occurs on over-pillowed California kings.) Chyna relocates to the floor and takes a moment to think about what Rob has said.
"Even though I'm mad at Rob about ghosting on me, when Rob says bad stuff about himself, it kind of throws me off a lot because I don't see it," she says in a confessional. "Some of the stuff that he thinks and says is really sad." But what adds up to just "some" in her entire relationship with Rob is closer to "most" in the show's version of their romance.
G/O Media may get a commission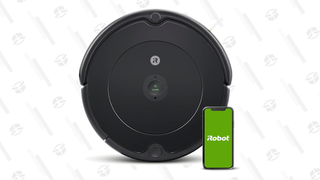 35% Off Black Friday Deal
iRobot Roomba 694 Robot Vacuum
Rob spends the bulk of this episode moping around from his bed and couch to Chyna's bed and couch, burying his head in his fiancée's judgment-free embrace, complaining about the prospect of going to France with her for a party, and reluctantly agreeing to work out with a personal trainer Scott Disick sends over. The only thing that prevents this episode from being a total downer is a bizarre scene in which Chyna and her Playboy Playmate friend suddenly decide to get some body piercings. Chyna gets a tongue ring. The playmate goes with her nipples.
But this show isn't about a stranger's pierced nipples and a manic, dare I say charming Scott Disick. It's about the tedious cycle of bickering, emotional outpouring, and reconciling that is Rob and Chyna's relationship. None of their frequently sad and candid bickering is much fun to watch, but at least it looks like real love.
"I thought the fact that Rob actually went out and bought baby stuff was the sweetest thing. And to set it up in the house, it really shows me that he is willing and committed to me and the baby," she says in the episode's final scene after seeing a swing Rob has built. I think she's probably right, but that doesn't mean I'm looking forward to four more episodes of this.