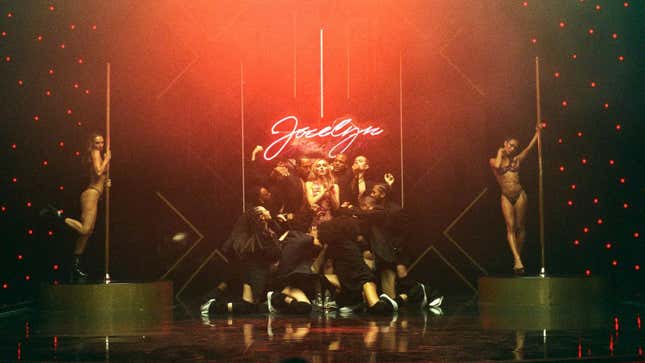 When the camera follows Jocelyn (Lily Rose Depp) as she's shooting the video that's supposed to be the lynchpin of her big comeback in The Idol's second episode, she's in full pink Britney drag. Her name flashes in neon pink above her, and she's lip syncing to "World Class Sinner/I'm a Freak," the song about to put her back on the map. The scene cuts back and forth between her managers, a creative director, a Vanity Fair reporter chattering about whether or not the video is actually sexy, and Jocelyn, who struggles with the choreography until she fully breaks down. It's a scene that encapsulates what The Idol could have been: a biting critique of pop stardom. And it's also an example of the only thing the show has done well in its five-episode run: the music!
Perhaps that concept of critique is where the creative differences between original showrunner Amy Seimetz, Euphoria creator Sam Levinson, and pop juggernaut Abel "The Weeknd" Tesfaye began, because the controversial show—which ends on Sunday after only five episodes, instead of the six that HBO ordered—doesn't have nearly enough guts to go there. Instead, the season puts Jocelyn under the spell of music sex cult leader Tedros Tedros (Tesfaye), who takes over her life and home, yet inexplicably instills in her a sexual liberation that benefits her creative process.
I can't by any means recommend this show for the same reasons that have been exhaustively written about—from the silly sexist sex scenes, Tesfaye's cardboard performance, and the existence of the cult storyline in the first place. But I also must admit that I am drawn to it, largely due to the supporting cast (especially the divine Da'Vine Joy Robinson as Destiny), the mesmerizing planes of Lily Rose Depp's face, and the music.
After we first hear "World Class Sinner/I'm a Freak," Jocelyn meets Tedros at the club he owns, where he a) digitally penetrates her, b) puts her in a blindfold, and c) offers to remix the song. Unfortunately for those of us cringing at this behavior—which is, Tedros says, part of his process—the song is an earworm that buries deep. It's a sexy, sugary pop confection filled with saccharin BDSM lyrics like "You can pull my hair, touch me anywhere/Whip and chains (whip and chains)/I'm just a freak, yeah (yeah)." Sure, it's incredibly silly and a tad rote, but it's the kind of song that you'd send to your group chat and announce as your "slutty summer anthem," or would play while getting ready with your friends then all collectively scream when you hear it at the club. But the ickiness of Tedros's "working" process (including covering Jocelyn's face in fabric and cutting a hole out as she gasps for air) undercuts anything interesting about Jocelyn's own creative journey.

The way The Idol uses sex constantly undercuts scenes that could have some sort of deeper meaning. In Episode 2, shortly before one of the best musical scenes in the show, Tedros is instructing Jocelyn on how to masturbate for him. Then in a sharp tonal pivot, their posse convenes around a piano, where Tedros's cult member Chloe (Suzanna Son) is singing "Family," a gorgeous ballad co-written by Son and Tesfaye. It's a scene that is actually somewhat moving, and would be even more so if the show was better at teasing out themes leaving abusive parents and embracing chosen family. Son's vocals are crystalline, soaring. When everyone joins in for the chorus of "That's my family/Oh, we don't like each other very much/Oh, I'm okay with that/But it breaks my mother's heart," it's hard not to be hypnotized by the song's beauty.
The evening shifts toward Jocelyn's search for her new sound, which seems to be the synth goth coke pop of "Fill the Void"—and I mean that descriptor heartily as a compliment. She introduces the song to her entourage, including her manager, Destiny, in a scene that blurs the line between reality and the fictional world of the show by featuring a fun cameo of Tesfaye's real life producer, Mike Dean. But when Destiny says that "Fill the Void" needs more grit, the show veers again into utter ridiculousness. In order to get that darker sound, Tedros blindfolds Jocelyn while fingering her in front of everyone.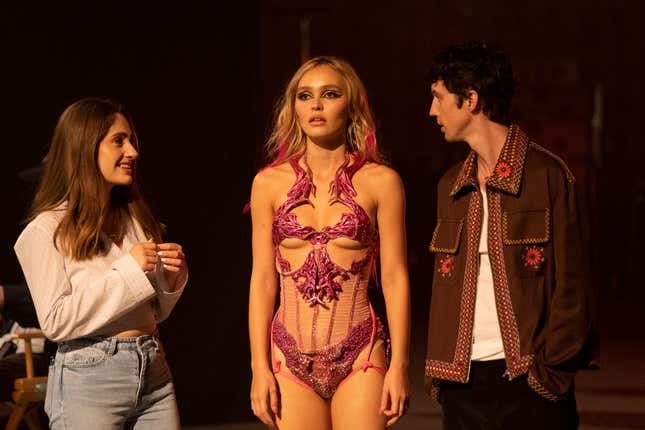 Even Tesfaye's cover of "Jealous Guy," which only plays over the beginning of Episode 4, is a perfect choice for a storyline about Jocelyn and Tedros's relationship beginning to unravel. The legendary John Lennon song—which has been covered by everyone from Elliott Smith to The Deftones—is done beautifully, but is immediately undercut by a montage of a cleaning person trying to pry a dildo off a shower wall.
The show's inability to let the music shine without pivoting toward its worst, try-hard motivations is evident even in smaller moments, like when Troye Sivan's Xander sings "Love Is a Losing Game" in the shower, but then, as is wont to happen in The Idol, Tedros shows up. Even just something like hearing snippets of Dyanne's (Jennie Kim) version of "World Class Sinner" add to the fictional music landscape of the show.
The soundtrack of the show is filled with other pop icons like Donna Summer and Britney Spears, classic R&B, newer artists like Gavin Turek and Shygirl, and musicians who appear on the show, like Moses Sumney. The needle drops are often perfect: Even if you wouldn't pick up Tedros at a club while dancing to "Like a Prayer" by Madonna, you can imagine the euphoria of dancing to one of the great pop songs on a crowded dance floor while being the object of someone's desire. And the Deftones "My Own Summer, Shove It" is an inspired musical choice for a party that turns into an orgy. (Of course, in the show's spirit of whiplash inconsistency, there are some notable exceptions. The Weeknd's "Double Fantasy" featuring Future plays over the beginning of their hedonistic night in Episode 2, which ends in the infamous masturbation scene, and, dear reader, it made me laugh out loud.)
If we end up getting anything out of The Idol, it likely won't be a second season, Tesfaye's future acting career, or insightful cultural commentary. But for those of us who made it through Tedros's rattail, the karate moves, the shock collar, and an unnameable amount of other horrors, we at least deserve a "World Class Sinner" EP featuring Dyanne's version. As Leia (Rachel Sennott), Jocelyn's assistant and BFF, tells her: "It's fun, you know? Like you wanna dance to it."