In 2013, a DJ named David Mueller allegedly stuck his hand up Taylor Swift's skirt and groped her at a "pre-concert meet and greet." The transcript from her deposition corroborates this information. In an appearance on 955 Detroit's "Mojo in the Morning" radio show, Mueller stuck to his guns and denied that the interaction Swift described in her deposition ever took place.

Page Six reports that in the interview, Mueller claimed that he actually had nothing to do with whatever it is she said he did at all. "What I was told that night and what I was told that day were different," he said. "But, what I'm hearing now is that I stuck my hand under her skirt and grabbed her bare bottom."
A few questions, here: What was he told that night? What was he told that day? Why was anyone telling him anything at all? Who are the people doing all of the telling in the first place? What I'm truly interested in is his recollection of the incident, and luckily, Mueller was happy to oblige.
"My right hand — I'm looking at the photographer and I'm trying to get my right hand, you know, behind Taylor, because [another DJ] was on the other side of Taylor," he continued. "My other hand I think was just on my belt or on my pocket, my left hand. So my right hand, I've got my hand closed and my palm down, and I reach behind, toward Taylor. Our hands touched and our arms crossed. That's all I remember..."

My hand was not touching her body … My hand was never under her skirt. I never grabbed her. My hand was not open."
Swift's recollection of the incident is much more concrete. "It was completely intentional, and I have never been so sure of anything in my life," she said in her videotaped deposition–a stark contrast to whatever it was that Mueller remembered.
[Page Six]
---
I bet Xenu is very, very unhappy with Leah Remini in light of her recent Reddit AMA that paints Scientology in, uh, not the most flattering of lights. There's a lot going on here, but LAist has ferreted out some of the more salacious and upsetting bits, including this tidbit about how the Church handles alleged sexual abuse.
I have read stories on the internet. I was told personally by a few people that I personally know that there was sexual abuse. When I was 16 and working for a "senior Scientologist" who was in his late 30's, he had sex with a 16 year old friend of ours. And the "Church" handled it internally. All abuses are dealt within the "Church" as it is an enemy act in the "Church" to prosecute another member.
G/O Media may get a commission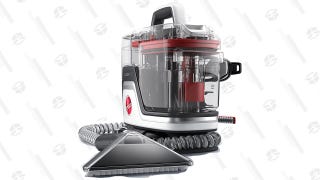 Save $10
Hoover CleanSlate Plus Carpet & Upholstery Cleaner
Leah Remini's highly-anticipated A&E series Leah Remini: Scientology and the Aftermath premieres tonight. Should be pretty good!
[LAist]
---