In 2013, while at a "pre-concert meet-and-greet," Taylor Swift claims a radio DJ named David Mueller put his hand up her dress and groped her. In 2015, Mueller claimed he lost his job because of Swift's allegations, and sued her for slander. Swift then sued Mueller right back for assault.
In July of this year, reports Billboard, Swift gave a videotaped deposition in which she recounted the incident "in an attempt to win the case before it goes to trial." Though photos of the alleged incident will not be made public, much of the deposition's transcript was just released.
Swift recalls the horrifying event several times throughout the two-hour conversation, and at one point says of Mueller's alleged behavior, "It was completely intentional, and I have never been so sure of anything in my life." Later, she adds:
"I remember being frantic, distressed, feeling violated in a way I had never experienced before. I remember saying how a meet-and-greet is supposed to be a situation where you're thanking people for coming, you're supposed to be welcoming people into your home, which is the arena for that day, and for someone to violate that hospitality in that way, I was completely stunned. I was really upset."
When asked how her mother responded to Swift telling her about the incident, she says:
"It was — like I said, it was very chaotic. It was very emotionally charged. And a lot was happening very quickly, but I remember telling her exactly what happened and her responding as any parent would, which is with absolute — just absolute horror."
G/O Media may get a commission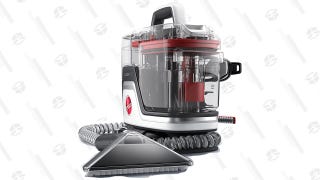 Save $10
Hoover CleanSlate Plus Carpet & Upholstery Cleaner
Several pages were redacted before the transcript was made public, but by the end of the deposition—some 45 minutes after Swift began speaking about the incident—things take an unexpected turn. Swift, world-famous entertainer that she is, ends the deposition with a little levity.
While speaking about her lawyer, Douglas Baldridge, Swift says:
"I think—before you turn [the video recorder] off, I think there is something really important for Doug. He would like to ask the room, who here thinks that he looks like Matt Damon?"
"That part is not confidential," Baldridge (pictured here) adds in what I presume was a playful tone.
Responds Swift's manager, Jesse Schaudies, "Well, thank goodness the whole thing is under seal."