There were literally dozens of oddly digitally altered models and celebrities this year, with a swipe of the mouse resulting in wonky elbows, whittled waists, new hands and unnaturally lightened skin. Here we have the very worst.
Ana Gasteyer Satirizes the Girl Boss in 'American Auto'
In April, the ladies of Sex And The City 2 went to the desert, where they discovered a Photoshop oasis. Sarah Jessica Parker's eyes are so close together they practically touch; Kristin Davis has a giant rack; Kim Cattrall's elbow joint looks like a T-square, and her face? Let us not speak of her face.
G/O Media may get a commission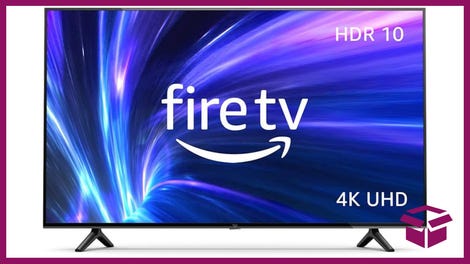 42% Off
Amazon Fire TV 50" 4K Smart TV
It was a rough year for Sarah Jessica Parker: Marie Claire gave her a hand transplant.
Kimora Lee Simmons borrowed a model's legs for her Baby Phat ad. Some believe the gams actually belong to Daria Werbowy, as seen on the cover of French Vogue in 2005.
Angelina Jolie is one of the most beautiful women in the world — with one of the most recognizable faces — but whomever was in charge of the poster for Salt decided that she needed a digitally slenderized nose, thinner lips and a less-square jaw.
Like SJP, Christina Hendricks was a victim of Photoshop chop more than once. When she appeared in GQ, she was given an elongated arm — but robbed of her body below the waist. Who needs legs with a rack like that, am I right?
When we were allowed to see Christina Hendricks' figure — in this London Fog ad, for instance — her famous curves were slimmed down. The company hired her for her hourglass figure, then decided to change its proportions.
Hendricks and her Mad Men co-stars were on the cover of Rolling Stone in August. Photoshop fused Betty and Don Draper's hands into one appendage, gave Betty an oddly slender, muscle-less leg, and left poor Peggy with an undulating shape we were supposed to believe was a foot.
Bret Michaels is in great shape, but the deep, shadowy ab valleys on an October issue of Billboard were created digitally — not in the gym.
Bloomingdale's should probably charge extra for the huge dislocated elbow that comes with this Diane von Furstenberg dress.
In August, Ann Taylor's website displayed the same model, two ways. She had a svelte physique to begin with, but the company felt the need to give her a ribless, wiggly torso as an "improvement."
The good news: Terrific, talented actress Gabourey Sidibe landed on the October issue of Elle. The bad news: Her skin was lightened substantially for the mainstream ladymag.
Last, but not least: The transformation of Megan Fox relies heavily on Photoshop.