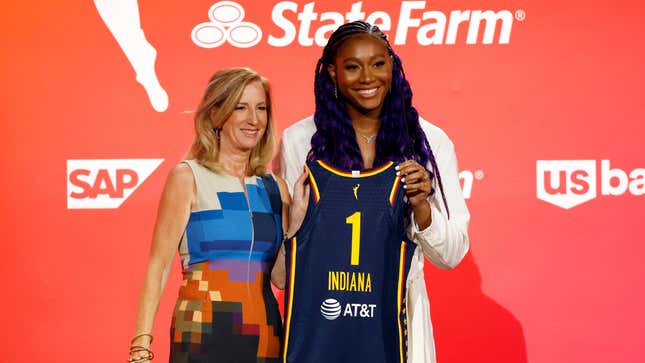 On Monday night, the top draft prospects for the WNBA gathered for the 2023 draft—the league's kickoff to the upcoming season and now a glitzy spectacle in its own right. UConn's Dorka Juhasz, who was later drafted by the Minnesota Lynx, wore a Versace corseted dress on the league's signature orange carpet; inside women slung basketball purses doused in Swarovski crystals; invitees guzzled champagne and inhaled tiny tacos beneath strobe lights. With first-round picks like Aaliyah Boston, Diamond Miller, Jordan Horston, and Zia Cooke—players who've been dubbed "generational talent," "flavors of greatness," the ability to become "franchise centerpieces"—the entire evening oozed star power. It felt something like momentum.

Olivia Holt Didn't Originally Get the Part of Roxie Hart in 'Chicago'
On Tuesday night, ESPN dropped the statistics to prove that momentum: The 2023 WNBA draft averaged 572,000 viewers, up 42% year-over-year, making it the most-viewed WNBA Draft since 2004 and the second-most viewed draft on record. And according to league PR and ESPN, the WNBA credentialed 175 media members for this year's draft, nearly triple the 65 credentials given in 2022.

That news comes on the heels of a historic NCAAW March Madness tournament, in which the women's championship matchup between LSU and Iowa averaged 9.9 million viewers—more than any women's college basketball game on record. It's proof that the onramp from NCAA women's basketball into the professional league doesn't just exist, but is beginning to thrive: The hype is transferring over, at least in part, and that's music to the WNBA's ears.
This success is due, in part, to college players benefitting from NIL deals (a two-year-old policy passed by the NCAA that allows college athletes to profit financially from their Name, Image, and Likeness). "I was wrong about [NIL]. I thought it'd be just another place for women to be undervalued in sports," WNBA Commissioner Cathy Engelbert told reporters in attendance Monday evening. "I went from the Final Four in Dallas to the Master's, and everyone at the Master's was talking about women's basketball. It was pretty incredible.
This newly-implemented policy means draftees are coming fully loaded with brand deals and a younger, digital-native audience: precisely the sort of fans the WNBA wants to court.

"I think NIL really allowed college athletes to start to build their brand," Villanova's Maddy Siegrist, drafted by the Dallas Wings, told Jezebel when asked how she hoped to take advantage of her new platform within the league. "I'm fortunate I kinda caught the beginning of that in the last two years."
The WNBA has also had its fair share of wins heading into the 2023 season: Engelbert told reporters just before the start of the draft Monday that in 2022, the league enjoyed its "most consumed season in 20 years." (In 2003, the league was six years old and the Detroit Shock became the first expansion franchise to win a title championship. That team no longer exists.)
The league continues to eye expansion in markets like Portland and Toronto and has finally brought in enough revenue to guarantee charter flights for the postseason and select back-to-back games (the lack of suitable travel has been a major sticking point for veteran players, who have gotten stuck sleeping on airport floors the night before a matchup).

Of course, the WNBA isn't without its staggering systemic issues, and growing excitement around the league won't snuff those out. Newly drafted players have already been thrown into the ring at a brutal pace: Less than two weeks after the end of the NCAA season, players are launched into a sink-or-swim environment where they'll fight against 30-year-old veterans for 144 roster spots. Of the 36 drafted players, less than half typically make it to opening day in May, and there is no developmental league where youngsters can grow their skills in the meantime. And in a league where 80% of players are women of color, according to the New York Times, the WNBA since its conception has failed to promote its Black stars.
Still, one foot in front of the other, the WNBA is trudging forward. Tom Brady recently joined the Las Vegas Aces ownership group. The New York Liberty's Sabrina Ionecu's new shoe with Nike, the Sabrina 1, will be released this summer. And the Liberty's DiDi Richards modeled both in New York Fashion Week and for Sports Illustrated last year.

Of course, something has always been abuzz at the WNBA, but most audiences weren't ready to hear it. The league has long been churning out players fans can fall in love with. But now we have a chance to really see them: in primetime and on major networks and in Nike shoes.

"This has been a dream of mine…to be able to be here, and be in the moment, and be on the court with [my heroes in the league] is pretty crazy," Boston, the number one draft pick out of University of South Carolina, told reporters Monday after she was selected by the Indiana Fever. When asked how she hopes to measure her success in the WNBA, Boston said: "Just knowing me, I'd say winning every single game."