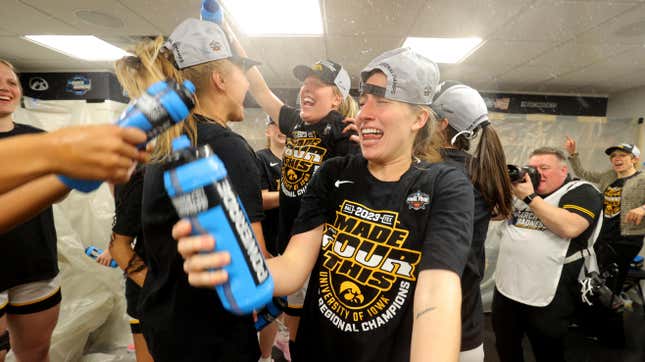 This year's March Madness tournament is only the second year that women's college basketball has been allowed to use the series' iconic branding. (It's also the second year I've gotten far too much joy out of asking people to clarify if they are talking about "men's March Madness," because that can no longer be assumed). And just as the women's tournament broke viewership records in 2022, they're running it back in 2023.

Sunday's Iowa vs. Louisville women's game on ESPN garnered 2.5 million views, according to Front Office Sports, which is more viewers than any NBA game ESPN has aired all season. (A March 5 showdown between the New York Knicks and Boston Celtics came closest, with 2.14 million viewers.)
And if you suspected that Iowa Hawkeyes star player Caitlin Clark had cast a spell over the entirety of this year's March Madness audience, you would be at least partially correct.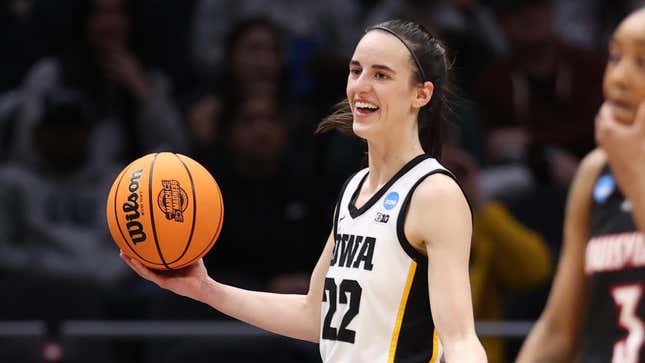 Clark is magic: The Final Four-bound junior became the first player in NCAA Tournament history, men's or women's, to record a 40-point triple-double during Sunday's Elite Eight match-up against the Louisville Cardinals. USA Today called her "the most electrifying player in college basketball, men's or women's." After Sunday's game, the point guard became the number one trending topic on Twitter, and just hours after she led Iowa to their Elite Eight win, she garnered 35,000 new social media followers, according to The Gist. People on Twitter called her "elite," "the reason i tuned into women's basketball," and "player of the year." (She's also got NIL deals with Nike, Topps, H&R Block, Bose, and Goldman Sachs, to name a few.) All things considered, Caitlin Clark is the future of women's basketball.
But Clark's dominance and wholly deserved launch to superstardom isn't a standalone event, nor should it be a shock to those who have been watching the steady rise of women's basketball for decades. Rather, Clark, a player of equal parts talent and persona, has captured the country's attention at precisely the moment that women's sports at large are popping off in an unprecedented manner. (A quick disclaimer that although Clark has been the center of March Madness discourse, Angel Reese, Aliyah Boston, Destiny Harden, Flau'jae Johnson, and Alexis Morris are also phenomenal basketball players worthy of the moment.)
This also happens to be precisely the moment basketball's more tenured stars have long predicted, in line with what upward-trending ticket sales, viewership, and investments have all suggested would happen. So yes, Clark is magic. And, she's the rightful symbol of a quickly rising tide, standing on the shoulders of all the superstars who came before her, who built this sport point by point, fan by fan, and game by game.
According to Front Office Sports, women's Sweet Sixteen viewership went up 73 percent year-over-year with an average of 1.3 million views per game this season, and Elite Eight viewership increased by 43 percent with 2.2 million views per game, while men's Elite Eight viewership decreased by 14 percent. And, while Sunday's Iowa vs. Louisville game garnered the most ESPN views, the women's matchup between Ohio State and UConn on ABC became the most-viewed Sweet Sixteen women's game on record with 2.4 million viewers, according to ESPN PR.
Attendance numbers are following suit, too. For the second year running, Forbes reported that the first and second rounds of women's March Madness have set an NCAA attendance record. Last year's tournament saw 216,890 attendees, while this year's tournament boasts 231,777 attendees so far.
All of this encouraging data comes at an opportune moment, as Just Women's Sports reports NCAA's current media rights contract with ESPN is set to expire in 2024. Men's basketball and football have their own standalone packages, and beloved South Carolina Gamecocks coach Dawn Staley thinks the NCAA women's basketball tournament, which is reportedly worth between $81 and $112 million, deserves its own TV deal, too.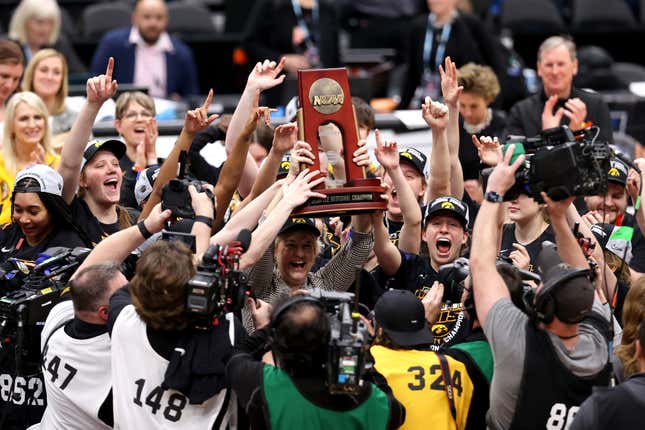 "It should happen. We're at that place where we're in high demand." Staley told JWS. "I do believe we were probably at a place years ago, but until we're able to have the decision makers give us that opportunity… It's slowly building up to that because there's proof in the numbers."

Look around at women's sports. In October, nearly 1 million people watched the NWSL Championship—the most-watched match in league history, in part because the championship game aired in prime time for the first time. During the 2022 WNBA season—which included send-offs for basketball giants Sylvia Fowles and Sue Bird—the league garnered its most regular-season viewers in 14 years. And in September, the USWNT joined reps from the U.S. Men's National Team to sign a historic collective bargaining agreement with the U.S. Soccer Federation, guaranteeing equal pay. This is not a fluke.
Caitlin Clark is magic because Crystal Dunn is magic, Sophia Smith is magic, and Sheryl Swoopes was magic before that. Everyone else is simply catching up with the hype. And thank god for that.