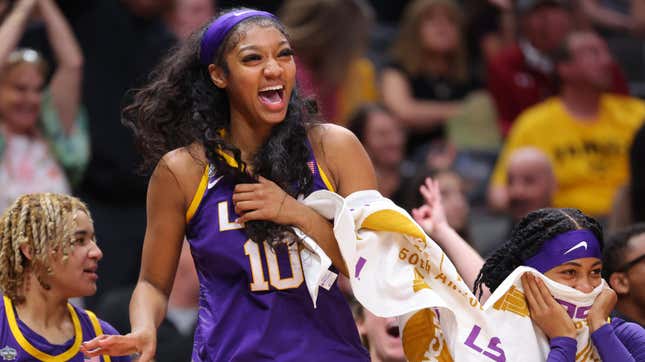 Sunday night marked a banner moment for NCAA women's basketball, and particularly for LSU, who took home the program's first-ever March Madness trophy after beating the Iowa Hawkeyes 102-85. At the center of the historic win was Angel Reese, LSU's star sophomore forward who was awarded Most Outstanding Player during the women's Final Four showdown. She led LSU to score the most points in NCAA championship history and set the NCAA record for the most double-doubles (34) in a single season, according to Just Women's Sports. She is, first and foremost, an NCAA champion, and she deserves her title ring—and her crown—without complications.

Larsa Pippen and Lisa Hochstein Pick Sides
But that's not how an embarrassing portion of the internet—rather, racist white men on Twitter—saw things. In the final seconds of Sunday night's championship game, with the championship all but secured for LSU, Reese threw John Cena's infamous "you can't see me" gesture at Iowa's Caitlin Clark—one of the tournament's standout "generational" players widely considered to be shaping the game in real-time. Then, after the buzzer sounded, Reese tapped her ring finger while still staring down Clark.
Trolls like Barstool's Dave Portnoy called Reese, 20, a "classless piece of shit" for doing so, while Keith Olbermann (some podcaster) called her a "fucking idiot." Olbermann later apologized, while still arguing that Reese's MVP performance would be overshadowed by her "classless" behavior. Basketball giants like LeBron James and Shaquille O'Neal even got involved, defending Reese's right to be her authentic self (a "Black queen," as she says) on the court. In the words of Shaq, Olbermann can go "shut [his] dumb ass up."
But as people (read: "misogynists") continued to harp on the nature of Reese's celebration, the word "taunting" started trending on Twitter.

Here's the thing: Caitlin Clark, who is white, made the same gesture last week when Iowa took down Louisville in the Elite Eight, and no one made a fuss. Actually, let me clarify: The internet was quick to comment on Clark's celebration, but largely in a positive manner. Cena himself gave Clark his stamp of approval, while others said the gesture made her "so fun to watch." Sports Illustrated wrote that Clark "had some fun late in the game when she performed one of the most savage celebrations you'll ever see." All around, it seemed most viewers agreed Clark's "savage" chirping only bolstered the game and the argument that women athletes should be able to talk shit just as much as their male counterparts. Reese, meanwhile, was repeatedly called a "thug" for doing so.
The racist commentary surrounding Reese's game-ending celebration is not at all shocking given the rampant misogynoir that runs deep in women's basketball. While male basketball players occasionally get called out for excessive trash talk, the majority of taunts are passed off as natural swagger and aggression inherent in the game. Meanwhile, women athletes have always been policed for their on-court appearances and behavior, namely for their inability to meet some patriarchal respectability standard: too loud, too emotional, too masculine, too reactionary. For Black women, the scrutiny increases tenfold.
In 2021, for example, a photo in which Aliyah Boston of the South Carolina Gamecocks was crying after a loss was widely circulated and mocked. Rather than allowing Boston to experience anguish over a devastating game, her emotion became a meme. This year, Boston again got emotional during a presser and had to beg the press not to take pictures of her in such a vulnerable state. "These players should be allowed to emote without fear of weaponized imagery," journalist Arielle Chambers tweeted of the interaction. "We, as media, have to take special precaution when it comes to recognizing implicit bias before it infiltrates our coverage."

Another example: On Friday, Gamecocks coach and WNBA legend Dawn Staley was forced to address accusations that her championship-winning program was too physical on the court after they lost to Iowa in the Final Four. A reporter asked how she would like to respond to other programs and teams calling her players "bullies." (The team is mostly comprised of women of color.) For them, in-game physicality gets coded as bullying, again feeding into racist stereotypes about Black women.
"The truth about our team…We're not barfighters. We're not thugs. We're not monkeys. We're not street fighters," Staley said. "This team exemplifies how you need to approach basketball on the court and off the court."
While speaking with Elle Duncan of ESPN, Reese explained why she threw the Cena gesture (though, of course, she shouldn't have to): "I was waiting. Caitlin Clark is a hell of a player for sure. But I don't take disrespect lightly…I had a moment at the end of the game. I was in my bag. I was in the moment." Even Clark herself didn't find any of it to be a big deal: "I was just trying to get to the handshake line and shake hands and be grateful that my team was in that position. All the credit in the world to LSU. They were tremendous. They deserve it."

And during the postgame press conference, Reese doubled down on her championship-winning conduct and the racist double standards under which she's being vilified:
"All year, I was critiqued for who I was. I don't fit the narrative. I don't fit the box that y'all want me to be in. I'm too hood. I'm too ghetto. Y'all told me that all year. When other people do it, and y'all don't say nothing. So this is for the girls that look like me. For those that want to speak up for what they believe in. It's unapologetically you. And that's what I [did] before tonight. It was bigger than me tonight. And Twitter is going to go into a rage every time."
Rather than just celebrating her achievements, Reese was forced to shut down nonsensical racists, too. But that hasn't kept the MVP from the ecstasy she deserves. And no, she will not keep her celebrations "cute."
"I feel like I've helped grow women's basketball this year. I'm super happy and excited. I don't care about anybody else and what they have to say about me. I don't care to be All-American. I don't care to be defensive player of the year, player of the year. The biggest goal is to be a national champion, and that's what I did," Reese also during the postgame presser. "That's what I can just brag on. Twitter can say what Twitter can say. I love reading those comments. I have all the screenshots of what everybody has said about me all season. What are you going to say now?"

And with that, Angel Reese gets the last laugh.