Now that Seventeen Magazine has listened to its readers and promised not to alter the faces or bodies of their models and "celebrate diverse beauty," teenage activists are setting their sights on Teen Vogue. But the second most popular teen magazine has made it clear that it doesn't care about being accessible. It's never been about that, anyhow.
Ana Gasteyer Satirizes the Girl Boss in 'American Auto'
When 14-year-old Julia Bluhm met with Seventeen editors to discuss her anti-photoshop campaign, she was greeted with friendly smiles, cupcakes and, eventually, pretty solid success: EIC Ann Shoket included a "body peace treaty" in the magazine's August issue that vowed to "never change girls' body or face shapes," "celebrate every kind of beauty in our pages," "always feature real girls and models who are healthy" and "be totally up-front about what goes into our photo shoots" by showing behind-the-scenes photos on their Tumblr.
As we noted at the time, Seventeen's response was delayed and somewhat oblique; the magazine didn't commit to publishing any unretouched photo spreads and pretty much just reconfirmed its current status quo. But the way Shoket acknowledged the desires of Seventeen readers was meaningful enough to encourage 17-year-old Emma Stydahar and 16-year-old Carina Cruz to ask Teen Vogue, the country's second largest teen magazine after Seventeen, to make the same public promise. From their petition:
We're really excited, because Seventeen didn't just promise one un-photoshopped spread a month, they went even further by promising not to change the faces or body size of their models, to listen to readers' feedback and to celebrate beauty in all of its diverse shapes, sizes and colors.

This is huge; the beginning of a revolution in the way girls see themselves across the girls' magazine industry. That's why we're now asking Teen Vogue to do the same.

...

Teen Vogue: Follow Seventeen's example and pledge not to alter any model's body or face and to celebrate beauty in all its forms.
G/O Media may get a commission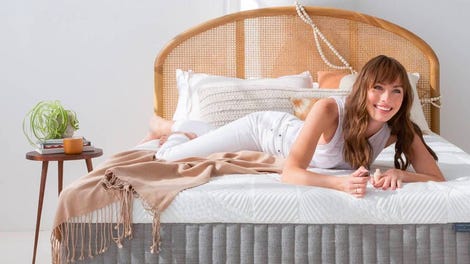 Sleep Sale
Sleep Sale - Brentwood Home
But, unlike Bluhm, the girls didn't feel welcome at the Teen Vogue offices — they said they were berated by the magazine's staff, who told them that they were clearly unfamiliar with the magazine and that they should "do their homework." Change.org's Shelby Knox, who is working with Stydahar and Cruz on the petition, told us that it was bizarre to see the girls walk out of the meeting with shocked looks on their faces. "It was like something out of a movie," she said. "But they're even more fired up now. They're going to keep pushing."
Stydahar said that she used to read Teen Vogue when she was younger but stopped because it made her feel bad about herself. "I would think, 'I wish I had her waist, her legs, her hair,' but never, 'wow, beauty comes in all different shapes and sizes, and I'm so excited that fashion is available to everyone,'" she told us. But that's what makes Teen Vogue different from other teen magazines like Seventeen; it has never claimed that it wants to make fashion available to everyone or that it strives to be accessible. Teen Vogue's idea of a bargain is a $300 Marc Jacobs backpack. The magazine's sports coverage involves clothing so expensive they won't even disclose the price. And when's the last time you noticed a "real girl" in Teen Vogue that wasn't a celebrity, the daughter of a celebrity or just really stinking rich?
"We feature dozens of non-models and readers every year and do not retouch them to alter their body size. We will continue to show real girls on the pages of our magazine," Erin Kaplan, Teen Vogue's Director of Publicity, wrote to us in an email, adding that the magazine does not retouch models to alter their body size either. But why would they have to? Let's check out the real girls featured in Teen Vogue's August issue. There's Franny Keller, the 14-year-old daughter of a Vogue stylist, Georgia Jagger — yep, Mick's daughter — and "classically trained ballet dancer, rising model, and budding actress" Margaret Qualley who is — shocker! — Andie Macdowell's daughter.
The profile on Qualley starts like this: "Jetting to Europe to hit the catwalk for major labels like Chanel and Valentino isn't exactly a day in the life of a typical teenager..." Exactly — and Teen Vogue is clearly disinterested in featuring real teenagers. I stopped reading Teen Vogue as a teenager when I realized that the magazine literally never featured anyone I could relate to — and when I realized how inadequate it never failed to make me feel. (Does anyone remember the magazine's "Room of My Own" feature? It makes me slightly green with envy just thinking about it right now, even though it no longer exists.) There's nothing wrong with profiling extraordinary role models, of course, but consider the young women Seventeen features: the girls in the running to be the magazine's "real girl" cover star include a LGBTQ spirit crusader, teen pilot and soccer player. The real girls in Teen Vogue are always really, reeeeally privileged.
The magazine's insistence on pretending that all teenage girls can afford $331 "Ashish maroon jackets" and enjoy sifting through the closets of their famous mother's closets is obnoxious but, in my opinion, not a huge deal in the scope of all of the various issues that make girls feel shitty. I guess I never expected Vogue's teenaged daughter to be all that different from her more mature but no less aspirational and impractical namesake. Plus, I know there are actually girls out there who care more about the Met Costume Institute Gala than $20 jeans that fit girls whose legs don't have the same circumference as their arms. Let them read Teen Vogue and the rest of us read Seventeen or Rookie.
But it'll be interesting to see how Teen Vogue handles Stydahar and Cruz if — as Knox promised — they don't back down. Because even though Teen Vogue has "Vogue" in its title, it's marketed towards impressionable young women, not adults; it would be a PR disaster if the magazine straight-out admitted its lack of interest in, as the petition calls for, "celebrating beauty in all its forms." So my bet is that — unfortunately — it won't, no matter how much media attention the campaign receives.
Stydahar and Cruz clearly aren't just looking for more super-thin and perfect African-American and Asian girls modeling clothes that cost more than a year's allowance; they're asking for the magazine to completely change its mindset. Most of all, they want to see Teen Vogue publicly promise that they actually care how the majority of their non-socialite readers feel when they read the magazine. We just really don't see that happening anytime soon.