Seventeen has at last, in an oblique kind of way, responded to the controversy sparked in April when a 14-year-old from Maine started an online petition calling out the magazine's over-use of Photoshop. That petition, started by a middle school student named Julia Bluhm, quickly went viral and was signed by over 84,000 people. When Bluhm and some other feminist activists went to the Hearst building to deliver the petition personally, Seventeen and its editor, Ann Shoket, would give only a boilerplate response via a spokesperson. (It began, "We're proud of Julia for being so passionate about an issue.") The demonstration, though it attracted only five teenaged protesters, was covered by Nightline, the New York Times, and numerous other national news outlets.
Bluhm and the other signatories were seeking a commitment from Seventeen to no longer alter its photographic subjects' appearance with Photoshop, and to publish one unretouched photo spread per issue. Despite the unusual level of media attention, the magazine was slow to react, and when it did, came off as defensive and somewhat miffed. Shoket and other Seventeen staffers were said to feel "aggrieved" by the way the issue had been raised, and when asked directly about her magazine's airbrushing policies, the editor snipped to the Times, "I don't want to get into the specifics of what we do and don't do."
Now, Shoket has used her August editor's letter to — well, not to actually act on anything mentioned in Julia Bluhm's petition, but to more warmly acknowledge its existence. Shoket, rejecting the charge that Seventeen has some issues when it comes to unrealistic retouching, claims that while the magazine does retouch its photos, "we never alter the way the girls on our pages really look." In a "Body Peace Treaty" handily enumerated in bullet points, Shoket says that Seventeen will "Never change girls' body shapes or faces. (Never have, never will.)" The "treaty" is basically an eight-point plan to maintain the retouching status quo. Shoket further claims that Seventeen's retouching has never in the past exceeded removing stray hairs or fixing errant folds in fabric — a claim that 84,000 people have already publicly questioned.
G/O Media may get a commission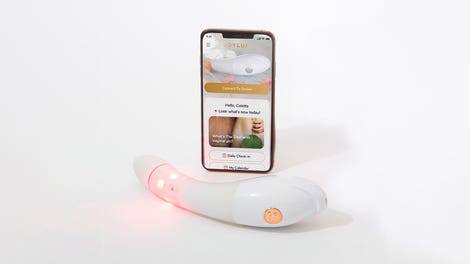 $50 Off
Joylux vFit Gold Device
So, a quick list of what Seventeen is not doing under the terms of this "treaty": it is not going to stop Photoshopping its models and celebrity subjects. It is not going to acknowledge that its reliance on Photoshop has ever been in any way problematic. It is not going to commit to publishing any unretouched photo spreads. Lame. [Seventeen]
---
Bar Refaeli stars in this new ad for her underwear line, Under.Me. The supermodel is lounging poolside in a long-sleeved t-shirt and a black thong, as you do, reading poetry and wearing thick, black-framed glasses when an urge to jump into the pool, book and all, suddenly overcomes her. The glasses, amazingly, stay on underwater. [YouTube]
---
Rihanna talks about her ass in Harper's Bazaar. "I don't know if there's something going on with my body right now, but I'm eating everything in life!" she says. "I miss my ass. It just went away! I need a butt. I have an idea of one, but it's not living up to its full potential right now." [HB]
---
Terry Richardson shot Querelle Jansen and Jonas Kessler as '60s rock stars stepping out of a Rolls Royce and greeting the paparazzi for Jimmy Choo's fall ads. [WWD]
---
Chanel endorsed NAIL ART for the first time ever at its couture show — by which we mean the Chanel models had two different colors of nail polish on their fingernails at the same time, not that they had some crazy Nicki Minaj 3-D shiznat. Nail polish maestro Peter Philips explains to Style.com:
Philips took the idea of the classic French manicure and gave it a touch of now, thus ushering in Chanel's first foray into fashion's continued embrace of the nail art revival. "When we were playing around with the idea of doing a nail polish, we evoked the idea of using two shades on one nail," Philips explained, employing a discontinued chrome color that launched in 2007 to outline the entire nail bed, rather than just the tip, which had been lacquered with two coats of May, a melon varnish from the Spring 2012 show.
Dude, you did a version of the Ruffian manicure. Just admit it. [Style.com]
---
Suzy Menkes at the International Herald Tribune didn't really like the Chanel collection, saying it had "not enough energy for now":
the problem with this collection, for all its genteel and fragile beauty, is that it seemed dull — although there were lovely pieces, like a black velvet dress with a frilled pocket in the skirt, and pants in a patchwork of lace.

The root problem was that this is not a moment to look back. It is time to clear the closet, strip everything down to clean lines and make decoration sparse.
More than anything, however, we can't get past the misspelling of the name of Karl Lagerfeld's cat, Choupette, name in the very first graf. "Chupette" — come on, Suze. [IHT]
---
Poppy Delevigne, Eugenia Silva, and designer Matthew Williamson share the cover of Elle Mexico. [FGR]
---
U.K. drugstore brand Boots No. 7 is offering a Great Gatsby tie-in makeup collection. [MyDaily]
---
The New York Times Magazine has a photo essay featuring unworn dresses prepared for the late singer Amy Winehouse's abortive final tour. [NYTimes]
---
The same intern who is suing Hearst for alleged labor violations in connection with her unpaid internship at Harper's Bazaar just filed a second, similar lawsuit against jewelry company Fenton Fallon. Xuedan "Diana" Wang, who is suing Hearst for violating minimum-wage laws by allegedly making her work 40-55 hours per week without pay, is now also suing Fenton Fallon. Wang alleges that she worked up to 50 hours per week last summer for the company, and that her duties included "purchasing materials from jewelry-supply stores and negotiating prices," and "constructing jewelry from raw materials, including cutting chains and double-knotting necklaces." Unpaid interns are not supposed to complete "productive work" for the companies that hire them, and the companies are not supposed to benefit from the work the interns do — an unpaid internship is supposed to be the equivalent of educational training for the intern. Wang also says she "worked alongside other individuals whom defendants also classified as unpaid interns, who performed productive work and were paid no wages." [NYPost]

Department stores and discounters cut 12,900 jobs during the month of June, according to new data from the Labor Department. Employment at other apparel and accessories stores rose slightly, by 1,000 jobs. Unemployment nationwide was unchanged, at 8.2%. [WWD]

Possibly adding to the pressure on department stores are the big beauty chains Ulta and Sephora, which are planning new store openings to challenge traditional retailers' dominance in the cosmetics arena. [WWD]

Rookie, Tavi Gevinson's site aimed at teenage girls, is going to be a book. Gevinson announced in her July editor's letter that Rookie Yearbook One, an edited volume of prose from the site's first year of existence, will go to press this September. Gevinson says it is not "a lame website-to-paper copy-and-paste situation. Considering it is mostly content you can read for free online, we knew we had to really take advantage of the print situation and make sure it's SUPER GOOD-LOOKING AND SPECIAL." She adds that the book will have "a few extra goodies, including a paper crown by Meadham Kirchhoff, a seven-inch flexi-disc, and more previously unseen contributions from Rookie friends." [Rookie]

Donna Karan is launching a new perfume, called Woman. The bottle is designed by architect Zaha Hadid. [WWD]

Hedi Slimane presented his first men's and women's wear resort collections as the head of Yves Saint Laurent in Paris last week — but he only allowed buyers, no press or critics, to see the clothes. Vanessa Friedman talked to some of those buyers, who were "genuinely charmed" by what they saw:

The word in the retail world on Mr Slimane's first attempt at womenswear is largely very good...The resort collection is said to be inspired by the early days of Saint Laurent — think of the famous photo Helmut Newton took for French Vogue in 1975 on Rue Aubriot, with a nude woman in stilettos standing next to another woman in a skinny tux with a blouse dripping a bow if you want the quick-twitch reference. So reports are of skinny suiting, always a Slimane signature, but also, more surprisingly (and interestingly) little silk dresses with bias-cut mini-skirts covered in tiny dots, the tops referencing the tux blouse, both sleeved and not, with a touch of Ossie Clarke.

[FT]

Fast Retailing, the parent company of Uniqlo and one of the largest apparel retailers in the world, posted a 35.8% year-on-year rise in net income for the nine months ended May 31. Net income topped $922.93 million. Sales rose 14%. [WWD]