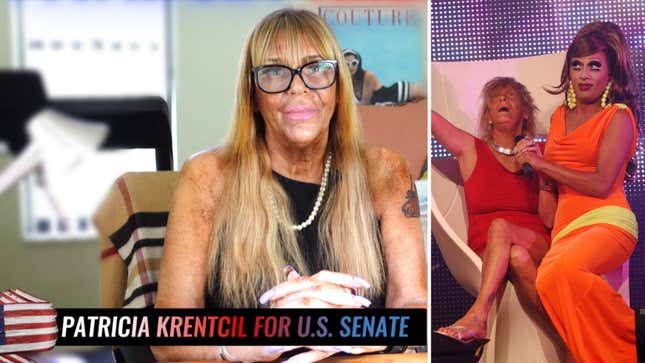 During the first Republican primary debate Wednesday night, former South Carolina Gov. Nikki Haley and former Vice President Mike Pence lied about abortion, Florida Gov. Ron DeSantis spun a yarn about a survivor of multiple abortion attempts named Penny, and Vivek Ramaswamy was booed for saying climate change is a hoax. Basically, it was a predictably bleak and bizarre showing for GOP bumblefucks. Overnight, it managed to get more absurd.
Early Thursday, the first campaign video from Patricia Krentcil aka "Tan Mom" was published by TMZ. In case you haven't paid her much mind since 2012, Krentcil announced she was running against Sen. Rick Scott (R-Fla.) for U.S. Senate last week. Her reason for entering the race, she said, was due in part to the LGBTQ+ community embracing her despite her many controversies—namely, her arrest for allegedly putting her 5-year-old daughter in a tanning booth.
"The thing with my campaign is that you know everything about me from the start," Krentcil said in a statement to Fox News following the announcement. "There's no skeletons or hidden secrets or shocking dirt to be revealed. What you see is what you get because my life has been documented."
Krentcil lays out her platform in the video, which hinges on LGBTQ+ rights, environmental justice, and affordable healthcare and housing. She credits her empathy for families dealing with the healthcare system to her husband's cancer battle; her passion for education to raising children; and support of the queer community to its kindness. Krentcil also denounced the state's failed drag ban and censorship in schools.
"Most people don't find Shakespeare and Sesame Street offensive," she said. "I also believe drag queens can be amazing role models for kids."
Should you need to learn more about Krentcil's campagin, a blurb further outlining her platform on her website also notes that she's using "high SPF" these days: "As a lover of the outdoors — and yes she advocates for using a high SPF these days — she also is champion for the environment."
Obviously none of this bodes well for her running as a Republican, but that appears to be what she's trying to do. "Somebody said I'm a compassionate conservative, and you know what? They're right," she said. "I'm listening. Let's talk."
Now I generally don't support reality stars-turned-politicians, but I gotta say, wouldn't hate seeing Rick "the second amendment didn't kill anyone" Scott at least debate Tan Mom. The bar for lawmakers coming out of Florida is already in hell.
---