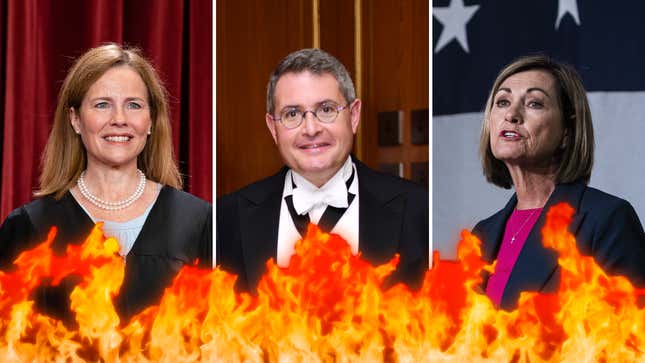 We have once again reached the end of a god-awful week of news. It's now June, which is Pride Month and brings nice weather, but is also the month in which the Supreme Court drops its opinions that will inevitably make life worse for the people of the United States. So I've compiled some developments you may have missed while you were simply trying to exist.
Pro-Abortion Protesters in NYC Have Two Words for SCOTUS
Here is a non-exhaustive list of Sue's Fuck Yous. I'm sure I missed a few bad people doing bad things, so please address them in the comments!

---
Fuck you to Iowa Republicans for requiring teachers to out students to their parents if they want to change their pronouns or names. The law also bans teachers from discussing gender identity and sexual orientation issues with students through grade six.

Fuck you more specifically to Iowa Gov. Kim Reynolds (R) for signing a bill that loosens child labor laws. You sure have a funny way of caring about kids.
Fuck you to Alabama Republicans for expanding the state's ban on transgender athletes to include college teams.
Fuck you to whoever created the verified Twitter account @AOCpress that is impersonating Rep. Alexandria Ocasio-Cortez (D-N.Y.) and claiming that she has a crush on Twitter CEO Elon Musk.
Fuck you to conservative piss-babies for calling to boycott Chick-fil-A over misinformation about them recently hiring a VP for diversity, equity, and inclusion. That person has actually been working there since 2021. Also: the company's foundation has donated millions to anti-LGBTQ+ organizations.
Fuck you to conservative shadow president and Federalist Society co-chair Leonard Leo for bankrolling the effort to mislead Kansas voters about last year's pro-abortion ballot measure. (Thankfully, his efforts failed.)
Fuck you to Donald Trump for saying he'd ban birthright citizenship via executive order on day one of his presidency were he to win in 2024. The text of the 14th Amendment would like a word.
Oh my god, fuck you to Brian Laundrie's mother, Roberta, for sending a letter to her son, the admitted murder of Gabby Petito, in which she said, "If you need to dispose of a body, I'll show up with a shovel and garbage bags." The outside of the envelope was marked "burn after reading."

Fuck you to Ron DeSantis for acting like it's a liberal conspiracy that his wife Casey isn't on fashion magazine covers because they're conservatives and not because Casey dresses like segregation Barbie.
Fuck you to the Department of Justice for saying that migrant families the Trump Administration separated at the border in 2017 and 2018 don't have legal standing to sue.
And, finally, fuck you to the conservative majority on the Supreme Court, led by Justice Amy Coney Barrett, for making it easier for companies to sue unions over financial losses during strikes. Justices Elena Kagan and Sonia Sotomayor joined the conservatives in what I really fucking hope was a deal to block them from making it worse. The ruling was 5-3-1, with only Justice Jackson dissenting.
---
To (almost) everyone else, have a delightful weekend.