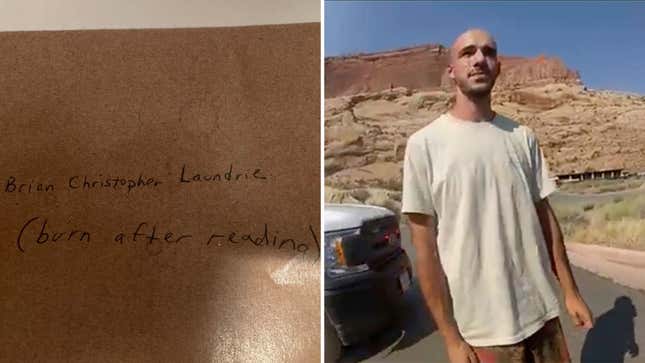 In March 2022, the parents of Gabby Petito filed a lawsuit against Brian Laundrie's mother and father on the basis that they failed to help in the investigation of their daughter's disappearance and murder by withholding critical information. Now, in the lead-up to what will surely be a contentious civil trial, attorneys representing both families are sparring over what evidence will be permissible in the proceedings. And a newly public, undated letter written by Laundrie's mother, Roberta, to her son is among the most brow-raising and, frankly, bizarre.
"If you're in jail, I will bake a cake with a file in it. If you need to dispose of a body, I'll show up with a shovel and garbage bags...If you say you hate my guts, I'll get new guts," Laundrie tells her son in the letter, which was tucked into an envelope marked "burn after reading."
Notably, Laundrie filed an affidavit requesting a protective order on the note, claiming she'd written the "light-hearted and quirky reminder" prior to her son and Petito's cross-country trip. However, a judge denied her request, and the letter was made public.
"I truly loved my son, and simply wanted to convey to him how much he meant to me and how much I loved him. I am sure people use phrases all the time to express to their loved ones the depths of their love," Laundrie said in a statement via her attorney, Steven Bertolino.
Petito's parents, of course, are relieved by the judge's decision. "We appreciate Judge Brewer's ruling in which she recognized the importance of the 'Burn After Reading' letter as a potential source of evidence to be used at trial against the Laundries," they responded via their attorney, Patrick Reilly.
"The letter is undated, and while Roberta Laundrie has suggested it was written before Brian Laundrie and Gabby Petito left on their trip, a reasonable inference is that it was written after Gabby Petito was murdered, and is evidence that the Laundries and Attorney Bertolino were aware of Gabby Petito's demise when the statement at issue was released on September 14, 2021," their statement continued.
The Petitos also suggested that Laundrie leaked the letter herself. Per the Washington Post, Petito's parents reviewed the note in 2021 after it was discovered by the FBI, but they weren't given a copy. "It is interesting that she would do this now, given that she has resisted providing it for the last five to six months, she asked for a protective order, asked for a confidentiality agreement in the afternoon of May 24, 2023, and then released it later that day," they said via Reily.
Why Laundrie would release the letter now is unfathomable—especially considering the widespread speculation that she and her husband, Christopher, obstructed the investigation into Petito's 2021 disappearance.
On Sept. 19, 2021, after a national search spanning weeks and unprecedented public scrutiny, Petito's remains were recovered in a camping area of Wyoming's Bridger-Teton National Forest. She had died by strangulation. By then, Laundrie had also disappeared, and stories of his emptied storage unit, alleged abuse of Petito, and his family's shifting timelines dominated headlines. By October 2021, investigators had found Laundrie's skeletal remains—and a notebook wherein he admitted to Petito's murder.
The civil trial between Laundrie and the Petito family has not yet been scheduled.