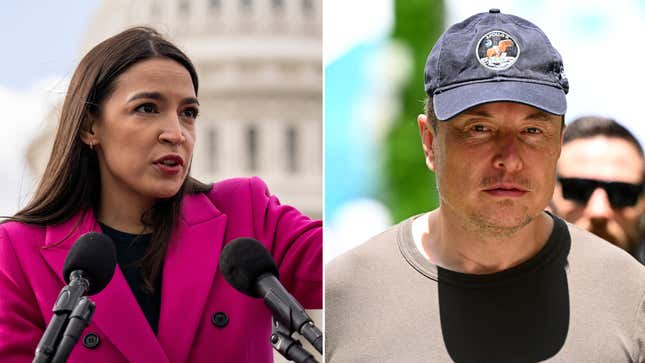 In the latest development showcasing the decline of Twitter since Elon Musk, bought it, Rep. Alexandria Ocasio-Cortez (D-N.Y.) on Tuesday pointed out a very real-looking Twitter Blue account impersonating her. "FYI there's a fake account on here impersonating me and going viral. The Twitter CEO has engaged it, boosting visibility," the real Ocasio-Cortez wrote in a tweet. "It is releasing false policy statements and gaining spread. I am assessing with my team how to move forward. In the meantime, be careful of what you see."
Infamously Thin-Skinned Man Joins Twitter's Board
The account in question, @AOCpress, includes "(parody)" at the end of its display name—but the display name is so long that when its tweets appear in users' feeds, that isn't obvious.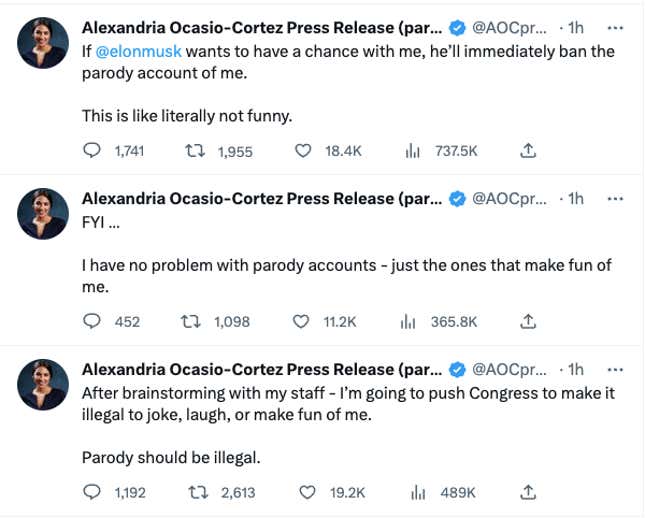 Armed with a blue check (which until recently meant that a user's identity had been verified) and Ocasio-Cortez's same profile picture, it's a jarringly convincing reproduction of her account. To make matters worse, as Ocasio-Cortez noted, the account has been boosted by Musk, who replied to a creepy tweet in which the impersonator wrote, "This might be the wine talking, but I've got a crush on @elonmusk." Musk, a 51-year-old father of nine, replied with a string of fire emojis.

That Ocasio-Cortez's sharp criticisms of the union-busting billionaire, who allegedly sexually harassed a flight attendant and inspired a culture of sexual harassment at the Tesla factory, are but a smokescreen for her secret sexual attraction to Musk is a common, deeply gross refrain among the right. Prior to replying to this post over the weekend, Musk once retweeted an edited video of Ocasio-Cortez appearing to confess her love to him. The post by Ocasio-Cortez's impersonator has since opened the congresswoman to a vile avalanche of sexual harassment and creepy tweets, in no small part thanks to the lift from Musk.
On top of the gross, gendered posts from her impersonator, Ocasio-Cortez has also pointed out the national security threat that accounts like @AOCpress pose. Beyond its sexual harassment of the congresswoman, it's tweeting out a string of fake policies. In a post on Twitter alternative Bluesky on Tuesday afternoon, Ocasio-Cortez wrote, "Really wondering about where the line is to leave the other place [Twitter]," expressing concern with Musk's handling of disinformation regarding the recent election in Turkey and what this might mean for the 2024 election cycle in the U.S.
"There is a line where the harm of unchecked disinfo exceeds the benefits of direct, authentic communication. It's really sad," she wrote.

The congresswoman speculated last fall that Musk's policy to "verify" any user willing to shell out a few bucks a month would encourage dangerous impersonations. It's hard to imagine that these dangerous "parodies" will stop at Ocasio-Cortez. Musk's disciples can continue to mock her complaints as much as they'd like, but the Twitter CEO's inability to address impersonations and national security threats is a problem that he's primarily hurting his own website's legitimacy by not addressing.