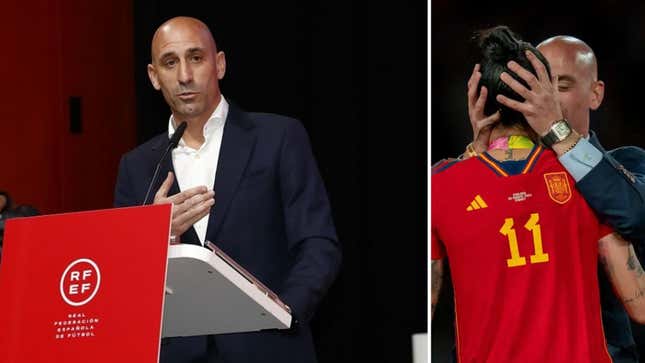 On Monday, Spanish authorities announced they are investigating Royal Spanish Football Federation (RFEF) president Luis Rubiales for forcibly kissing soccer star, Jenni Hermoso, after Spain won their first-ever World Cup on August 20. This comes after Rubiales initially apologized, was rumored to be resigning, then rescinded his apology, and said he would never step down since "false feminists" were "trying to kill" him. On Thursday, FIFA also announced its own investigation into Rubiales and his treatment of Hermoso, and on Monday, his mother declared hunger strike.

Ángeles Béjar marched into the Church of the Divine Shepherdess in the family's hometown in Adalusia, Spain, according to ESPN. There, she locked herself inside and declared that she'd be on a hunger strike until the "inhuman, bloodthirsty witch hunt which my son is being subjected to" ends. Ángeles Béjar . Her sister is also in the church, but it's unclear if she's also hunger-striking.
"There is no sexual abuse since there is consent on both sides, as the images prove," Béjar told Agencia EFE. "My son is incapable of hurting anyone."
Vanessa Ruiz Béjar, Rubiales' cousin, told Teledeporte that "his family is suffering very much on his behalf" and said it "is not fair," adding that Hermoso has changed her story too many times.
"He has been judged ahead of time and he should be left in peace. We want Jenni to tell the truth. Why has she changed her story three times? Our family has been harassed. This woman should tell the truth," Vanessa told Teledeporte. "Jenni, you should tell the truth. We want Jenni to tell the truth."
In a statement released by the Spanish Prosecutors Office on Monday, they said they "have agreed to contact Jennifer Hermoso in order to inform her of her rights as a victim of an alleged crime of sexual aggression in the next 15 days." RFEF also called for an "extraordinary and urgent" meeting to take place Monday afternoon.
Initially, the federation tried to downplay the forced kiss. "It was a totally spontaneous mutual gesture due to the immense joy of winning a World Cup," Hermoso said in a statement released by the federation in the days following the victory. "The president and I have a great relationship, his behavior with all of us has been excellent and it was a natural gesture of affection and gratitude."

However, videos of the world champion celebrating in the locker room later surfaced, where she can be heard laughing and shouting, "But I didn't like it!" Days later, Hermoso called on the federation to act, saying her union and talent agency would be "defending my interests" as the case progressed.
On Friday—four days after Rubiales apologized, saying, "Surely I was wrong, I have to admit."—Rubiales said he would "fight this to the end." That same day, FIFA issued a 90-day temporary suspension, and both FIFA and the RFEF have ordered Rubiales from contacting Hermoso.
Jorge Vilda, the head coach whose actions spurred mass protests from his own players, eventually called Rubiales' actions "inappropriate and unacceptable" on Saturday. That same day, 11 coaches and staff members resigned, citing Rubiales' "unacceptable attitude and statements" as one of the reasons.
Yolanda Díaz, Spain's acting labor minister and second deputy prime minister, said the government "must act and take urgent measures." Irene Montero, the acting minister of equality, called the forced kiss "a form of sexual violence." In his bizarre Friday rant, Rubiales claimed "one of the scourges of this country" is coming after him. "False feminism does not seek justice or truth. It does not care about people." K, dude.

What should have been a euphoric moment of celebration for La Roja and their 1-0 victory over the Lionesses has turned into a circus about the actions of one man. This is why we can't have nice things.