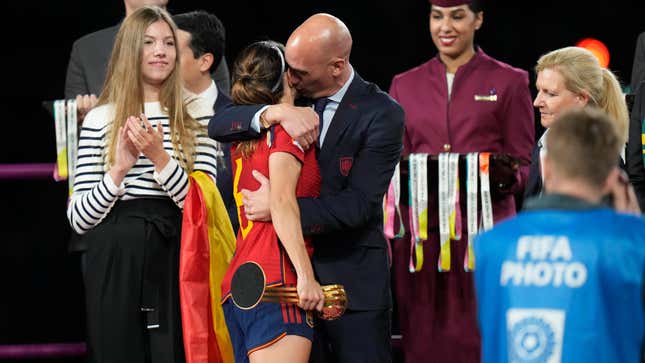 Luis Rubiales, the president of the Royal Spanish Football Federation (RFEF), who reacted to the Spanish women's soccer team's World Cup victory by forcibly kissing several players and grabbing his crotch, is refusing to step down amid mounting backlash—including from Spain's equality minister Irene Montero, who called Rubiales' actions "sexual violence." By Friday afternoon, the Spanish women's team said in a statement that they refuse to play squad matches until Rubiales steps down.

Rubiales, who initially apologized on Monday, went on a bizarre tangent earlier on Friday, denying bad faith in his actions and refusing to step down from his position while denying rumors that he would. (On Thursday, ESPN reported that Rubiales planned to resign.) The tirade comes shortly after the Spanish government announced legal proceedings seeking to suspend him and FIFA announced they were opening an investigation into his actions.
"Do you think this [incident] is so serious that I should go, after the best management in the history of Spanish football? Let me tell you: I'm not going to resign. I'm not going to resign. I'm not going to resign," Rubiales said in a speech, according to ESPN. Elsewhere in the prolonged, outraged remarks, he called his critics "false feminists," and called the backlash against him "a social assassination of me—they're trying to kill me."
He continued, "I've come under a lot of pressure. Perhaps somebody will look to remove me on Monday. But we live in a country of laws. Is a consensual kiss enough to remove me? I'm going to fight until the end. I hope the law is followed, and that as there's no reason to [remove me], it won't happen."
"Consensual kiss" is… a stretch. Videos show Rubiales kissing Spanish soccer player Jenni Hermoso on the lips shortly after the win, and the Associated Press reports that locker room video footage shows Hermoso saying "I didn't like it." Other videos show Rubiales kissing some of the other Spanish soccer players and even grabbing his crotch while standing in the crowd after the team's 1-0 win over England.
In initial follow-up interviews, Hermosa said the kiss was "no big deal" and "a mutual gesture that was totally spontaneous prompted by the huge joy of winning a World Cup." But by Wednesday, Hermoso called for action to be taken against Rubiales over the kiss, and the other players Rubiales kissed haven't called the kiss consensual. In addition to Montero framing the kisses as "sexual violence," Miquel Iceta, Spain's sports minister, called the kiss "unacceptable." The worldwide soccer players' union—Fédération Internationale des Associations de Footballeurs Professionnels, or FIFPRO—called Rubiales' behavior "deeply lamentable." Their statement adds that "uninitiated and uninvited physical gestures towards players are not appropriate or acceptable in any context" and "this is especially true when players are put in a position of vulnerability because a physical approach or gesture is initiated by a person who holds power over them."
Still, Rubiales continued on Friday, "My desire in that moment was exactly the same as if I'd have been kissing one of my daughters." (Hmm, maybe we shouldn't treat employees and professional acquaintances like our children...?) Rubiales further claimed the kiss came after he comforted Hermoso over missing a penalty kick: "We hugged. I said, 'Forget about the penalty, you've been fantastic, we wouldn't have won the World Cup without you.' She said: 'You're great.' I said, 'A kiss?' and she said: 'Yes.'" But the videos don't really show this, and Hermoso herself is now seeking "exemplary measures" against Rubiales over the kiss which she, herself, said she didn't like.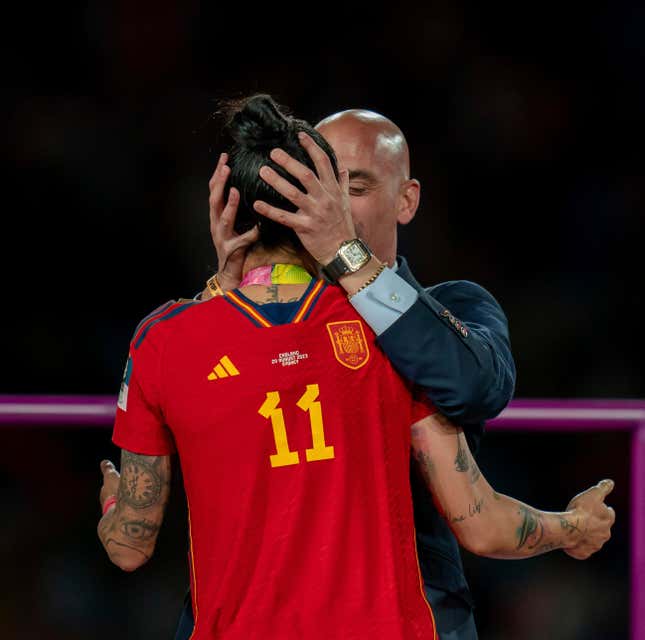 Rubiales went on to claim he doesn't understand how Hermoso went from calling the kiss "no big deal" to taking action against him, suggesting she was pressured by the media. But if anything, it seems more likely Hermoso initially felt pressured to dismiss her discomfort with the kiss, given Rubiales' power over her and how society treats women who complain about mistreatment. When Spanish leaders, the players' union, and the general public overwhelmingly validated her discomfort and criticized Rubiales, this probably gave Hermoso the support she needed to take action.

Rubiales also addressed his crotch-grabbing during the game: "In a moment of euphoria, I grabbed that part of my body. I was looking at [coach] Jorge Vilda. We've been through a lot this year," he said, as if this justified the lewd public gesture. The rest of the atrocious speech sounded like something stripped from an incel's manifesto: "I'm telling the truth. False feminism doesn't look for justice or truth, it doesn't care about people. ... [Various politicians] have used terms like sexual violence, assault. What will women who have been sexually assaulted think of that?" He continued, "These people are trying to assassinate me and I'm going to defend myself. The false feminists destroy people." Sure, dude