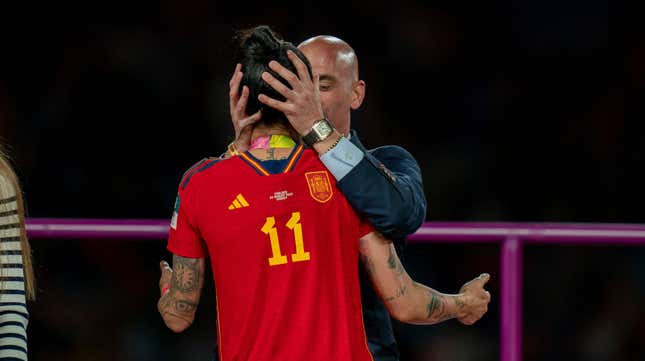 Luis Rubiales, the president of the Royal Spanish Football Federation (RFEF), will reportedly resign on Friday, according to ESPN.
On Thursday, FIFA announced it was opening an investigation into Rubiales after he forcibly kissed midfielder Jenni Hermoso on the lips, other players on the face, and grabbed his crotched while celebrating the team's first World Cup victory on Sunday. Pedro Sanchez, acting prime minister of Spain, said Rubiales's previous apology (which he released on Tuesday) was "insufficient and inadequate."
Original story below:
The Royal Spanish Football Federation (RFEF) initially tried to downplay Rubiales' actions by releasing a statement from Hermoso. "It was a totally spontaneous mutual gesture due to the immense joy of winning a World Cup," she said. "The president and I have a great relationship, his behavior with all of us has been excellent and it was a natural gesture of affection and gratitude."
However according to a release on Thursday, Rubiales' actions "may constitute violations" of the association's disciplinary code. "FIFA reiterates its unwavering commitment to respecting the integrity of all individuals and strongly condemns any behaviour to the contrary," the four-sentence statement read. Further details will be released once the committee issues a final decision.
Rubiales did issue an apology, saying that "probably I made a mistake," in a video released by the Federation on Tuesday. He added, "I have to apologise, learn from this, and understand that when you are president you have to be more careful." But Spanish Prime Minister Pedro Sanchez said that Rubiales' apology was "not enough."
And despite her initial statement, Hermoso is said to have offered a less rosy assessment in the locker following the incident. Multiple outlets surfaced videos of the world champion (rightly!) saying that she didn't like his actions while the players raucously reacted to a video of the kiss in the locker room. In the video, Hermoso is laughing and shouting, "But I didn't like it!" She also told players she didn't feel like she could do much about his actions as he kept saying, "Look at me, look at me."
The Fédération Internationale des Associations de Footballeurs Professionnels, or FIFPRO (a worldwide trade union for professional footballers) was even more direct. "It is deeply lamentable that such a special moment for the players of the Spain national team that was taking place before a global television audience should be stained by the inappropriate conduct of an individual in a role carrying so much responsibility," the union said in a statement.
The women's national team union vowed to fight "sexual harassment or abuse, machismo and sexism" in Spanish soccer. "It is essential that our team, the current world champion, is always represented by figures who project values of equality and respect in all areas," the team's union, Association of Professional Soccer Players or FUTPRO, said in a statement Wednesday.
Miquel Iceta, Spain's Sports Minister called the kiss "unacceptable," while Irene Montero, Spain's Minister of Equality said the kiss was "a form of sexual violence women suffer on a daily basis" and "we should not assume kissing without consent is something 'that happens.'"
By Wednesday, Hermoso called on the Spanish federation to take action against Rubiales. The union and her agency will be "defending my interests," she said in a statement.

The Spanish team had a rocky road to their first World Cup victory—15 Spanish national players withdrew from roster selection in September in protest of both head coach Jorge Vilda and the federation. Only three of the "Rebel 15" rejoined the squad, but missing were some of the world's best players, including Patri Guijarro, Mapi Leon, and Sandra Panos.
Despite all the behind-the-scenes turmoil, the team beat the Lionesses 1-0. Since then, the players have been celebrating bringing the cup back to España.