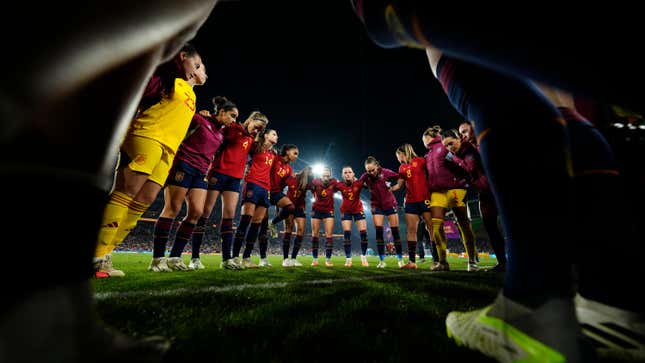 Luis Rubiales, the president of Spain's soccer federation, is being accused of "sexual violence" by the country's minister of equality, Irene Montero, for kissing several players on the lips and grabbing his crotch over the weekend in the midst of Spain's World Cup win over England. The backlash—from Montero, social media users, and even the worldwide soccer players' union—prompted Rubiales to apologize by Monday afternoon.

Videos show Rubiales kissing Spanish soccer player Jenni Hermoso on the lips shortly after the win, and according to the Associated Press, locker room video footage shows Hermoso saying of the kiss, "I didn't like it." Other videos circulated online show Rubiales kissing a number of other Spanish soccer players who haven't been identified. Rubiales, who was apparently having himself quite a night, can also be seen grabbing his crotch while standing in the crowd during the team win.
Hermoso later spoke on the kiss again, telling Spanish outlet Cadena COPE, "It was the emotion of the moment. There's nothing else there. It's no big deal." She also shared a statement to a Spanish news agency that, translated by Reuters, reads: "[The kiss] was a mutual gesture that was totally spontaneous prompted by the huge joy of winning a World Cup. The 'presi' and I have a great relationship, his behaviour with all of us has always been 10 (out of 10) and this was a natural gesture of affection and gratitude." Other players Rubiales kissed haven't spoken publicly about it.
Where Hermoso offered more lighthearted comments about the kiss, others—certainly, including Montero—disagree. "It is a form of sexual violence that women suffer on a daily basis, and which has been invisible so far, and which we should not normalize," Montero wrote on Twitter on Sunday night. She added: "Consent in the center. Only yes is yes."
The worldwide soccer players' union—Fédération Internationale des Associations de Footballeurs Professionnels, or FIFPRO—agrees with Montero. "It is deeply lamentable that such a special moment for the players of the Spain national team that was taking place before a global television audience should be stained by the inappropriate conduct of an individual in a role carrying so much responsibility," the group said in a statement, translated by the Associated Press. The statement further notes that "uninitiated and uninvited physical gestures towards players are not appropriate or acceptable in any context," and "this is especially true when players are put in a position of vulnerability because a physical approach or gesture is initiated by a person who holds power over them."
Finally, in the wake of all of this well-earned backlash, by Monday, Rubiales apologized for his behavior. In a video statement translated by Reuters, Rubiales said, "Surely I was wrong, I have to admit. It was without bad faith at a time of maximum effusiveness."
Of course, whatever Rubiales' intentions were, his behavior was part of a disturbing pattern of how female athletes are routinely mistreated. It's good to see Spain's equality minister and soccer players all over the world rally in support of the players Rubiales inappropriately touched.