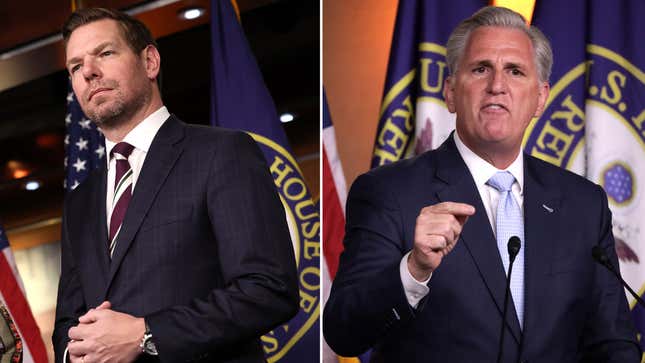 In the latest installment of "The Girls Are Fighting," Congress Edition, I give you this pleasant little development: Rep. Eric Swalwell (D-Calif.) and House Speaker Kevin McCarthy (R-Calif.) reportedly got into it on the House floor last month, and the Daily Beast reported on Thursday that this stand-off culminated in Swalwell calling his Republican adversary a quote unquote "pussy."

The events leading up to the brawl in question apparently took place on June 21, when House Republicans voted to censure Rep. Adam Schiff (D-Calif.) over his role in investigating former President Trump. Swalwell stood near McCarthy at the podium as the House Speaker oversaw the vote, and in C-SPAN footage, you can hear Swalwell tell the Speaker, "This is pathetic. You're weak. You're a weak man." One source, an unnamed House Democrat, told the Daily Beast that McCarthy was visibly upset at Swalwell to the point that "he had a vein popping out of his forehead" and stared down the Democrat for 10 whole seconds before walking away.
Things only escalated the following day, June 22, which saw Indian Prime Minister Narendra Modi deliver remarks to Congress. As Swalwell emerged from a bathroom, McCarthy confronted him, and the two were allegedly "in each other's faces," another House member told the Daily Beast. According to both sources, McCarthy told Swalwell, "If you ever say something like that to me again, I'm gonna kick the shit out of you." There was some back-and-forth between the two, the witnesses said, leading up to McCarthy telling the Democrat, "Call me a pussy again and I'll kick your ass."
To this, Swalwell offered a wonderfully mature response: "You. Are. A. Pussy." Per the Daily Beast, two different members recounted this stand-off between the two adult men, and both "delivered Swalwell's response in exactly the same way."
Neither Swalwell nor McCarthy have commented on Daily Beast's report, nor did they comment for HuffPost's reporting—but it's quite telling that neither party is taking the opportunity to deny any of this. Swalwell and McCarthy have clashed before, particularly over Swalwell's removal from the House Intelligence Committee when McCarthy became Speaker. Swalwell joined other House Democrats who were removed from the committee for a joint statement that accused McCarthy of "[striking] a corrupt bargain in his desperate, and nearly failed, attempt to win" the Speakership.
According to the Daily Beast, the simmering feud between the two is very much active a month after the stand-off in question, and House Democrats are "delighting" in the alleged fight outside the bathroom, as they "believe it's indicative of McCarthy's empty threats and ultimate weakness." Fair enough! I choose to take away something else entirely from all of this, which is that adult men are clearly far too emotional to be in positions of power (though if I have to pick sides here I am Team Swalwell, and in no way am I suggesting a moral equivalence between their sides). As an ardent fan of mess, I'd love to see these two jump into the Octagon with Elon Musk and Mark Zuckerberg.
Of course, Swalwell and McCarthy are hardly the only members who hate each other's guts—there's also Reps. Lauren Boebert (R-Co.) and Marjorie Taylor Greene (R-Ga.), the latter of whom reportedly called the former a "nasty little bitch" on the House floor and was recently thrown out of the far-right Freedom Caucus over this. Oh, Congress—sure, they can't deliver a single vaguely useful piece of legislation due to partisan gridlock, but they can certainly deliver all the drama.