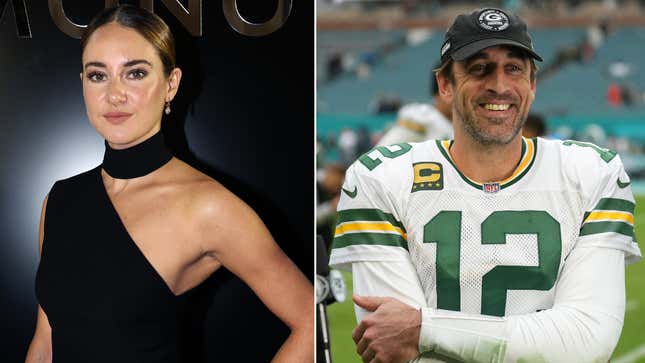 It's been nigh on a year since Shailene Woodley and Aaron Rodgers broke off their engagement and called it quits. The exes kept it relatively quiet at the time, first breaking up last February, only to reunite shortly after, and then call things off for real that April. For the first time, without directly naming Rodgers, Woodley seems to have acknowledged the breakup and its impact on her in an interview with Net-a-Porter this week.

Luke Macfarlane Talks Starring In Historical Gay Rom-Com 'Bros'
Speaking to the fashion company about her forthcoming show Three Women, Woodley said: "It was hard to film because I was going through the darkest, hardest time in my life; it was winter in New York, and my personal life was shit, so it felt like a big pain bubble for eight months."
She continued, "I was so grateful that at least I could go to work and cry and process my emotions through my character."
Mind you, People notes that filming for Three Women took place between October 2021 and the spring of 2022. For some context, here's what was happening in Woodley's life at that time: First, in the fall of 2021, she was insinuated into her then-fiance's anti-vaccine scandal. At the time, Rodgers was outed for lying to reporters about having been vaccinated when he contracted the virus shortly after very publicly attending a Halloween party.
Woodley stood by him throughout the well-deserved public shaming, even, at one point, going so far as to insist that she'd recognize his feet anywhere, when photos that were said to prove that Rodgers had covid toe surfaced, and the Big Little Lies actress pounced to deny they were his feet (and make some insinuations about his dick size). If that isn't love…
In any case, it was certainly a rough fall for Woodley, as the sudden onslaught of scrutiny that her relationship with Rodgers incurred necessarily brought more attention to her, too—her past comments about eating clay, her long history of just… not wearing shoes, all of it. Then, come February, she and Rodgers reportedly split, ostensibly so he could focus on his career of throwing a ball around. As for how that worked out, the Green Bay Packers didn't even make the play-offs this year, so, there's that.
In the spring of 2022, the two appeared to backslide and partake in an on-again-off-again fling, and let me just say, of course that was "the darkest, hardest time" in your life, Shailene! Nebulous, ill-defined reconciliations and situationships with a chaotic ex tend to inflict acute psychological terror, so I can see why your "personal life was shit" at this time, ma'am.
However you feel about the Divergent star and her unwavering loyalty to Rodgers amid his vaccine bullshit, I think we can all agree it's impressive that she was able to show up to work filming Three Women amid all of that. The Showtime series is an adaptation of the 2019 book of the same name, which follows a writer interviewing three different American women about their sex lives. It's an interesting premise, but I'm especially curious to see whether Woodley's post-breakup blues show through in her performance.