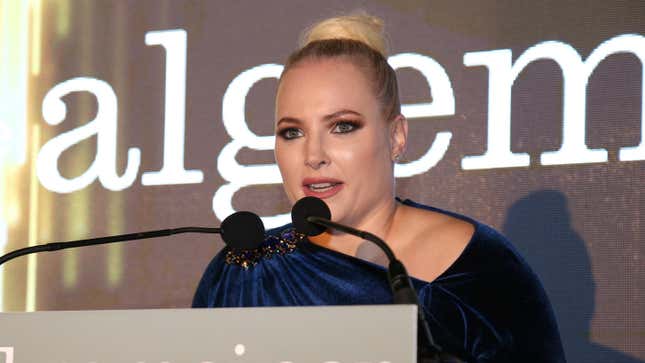 Happy Friday! Sex cop Meghan McCain is reporting for duty, and if you're fucking, she does not want to know about it.

America's Favorite Pasttime: Dunking On Dr. Oz
In her regularly scheduled Daily Mail column this week, McCain, the unwitting product of sexual relations between her parents, excoriated a laundry list of female celebrities who have spoken publicly about their sex lives lately, from Gwyneth Paltrow and Rachel Bilson to Meghan Trainor and morning talk show power couple Kelly Ripa and Mark Consuelos. In McCain's characteristically illegible column, she put the aforementioned celebs on blast for "suddenly think[ing] that it's appropriate to share their private sexual business with the world."
Just this week, Paltrow joined the Call Her Daddy podcast and compared her exes Brad Pitt and Ben Affleck in the bedroom. On her own podcast, Bilson described her favorite sex positions and her love for being "fucking manhandled." Last week, Trainor caused a stir when tabloids picked up on a podcast episode in which she detailed her sexual troubles, describing her husband's large penis and her struggles with vaginismus, a highly stigmatized medical condition that renders vaginal penetration painful or impossible.
Medical experts and advocates applauded Trainor's candor about her condition and the conversation it sparked about the erasure of women's pain. McCain, on the other hand, was unimpressed: "I'm truly sorry that you're having trouble Meghan, but it is your problem," she wrote in her column. Before that, McCain referenced Bilson's disclosures, too, suggesting that the fairly normal sex positions Bilson described "sound dangerous."
Elsewhere, the former, embattled View co-host referred to Ripa and Consuelos as the "ABC porny-couple" for their jokes and disclosures about places they've hooked up, and also expressed disgust with ABC News' George Stephanopolous and his wife Ali Wentworth, because Wentworth mentioned five years ago that they have sex twice a day.
But McCain took particular issue with the details Paltrow dished on Affleck and Pitt and took it upon herself to present a lesson in feminism. "I get it. Men have done this since the beginning of time. They brag about their conquests and compare their partners," she wrote, "but that doesn't make it right for Paltrow to do it before an audience of millions."
"Whatever happens behind closed doors is your business and that's the point," McCain said. She added, "Strong women are confident in their sexuality. But that doesn't mean that they should be pushed and prodded by society into wearing it on their sleeves. Self-control is the first step toward self-respect."
In general, I'm in agreement with the viral New York Times column which postulates that thanks to the internet, we all know a bit too much about each other. But the tidbits that Paltrow, Bilson, and Trainor shared were all on the tamer side. That McCain took grave enough issue with a few raunchy jokes specifically from women sounds more like her problem than Paltrow's.
Yes, sometimes people—women and men—can overshare about their sex lives and make others uncomfortable! I'd argue, though, that women sharing with each other about our sex lives actually can be a feminist endeavor allowing us to discover common experiences and shared problems, and sometimes, feel less alone. So, do feel empowered to share what you're comfortable sharing in the right contexts—just take care that McCain doesn't have to hear about it!