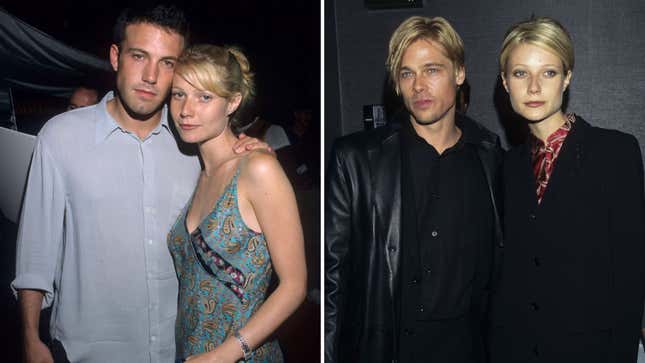 After her brush with the law earlier this year, Gwyneth Paltrow is a free woman (well, she was only at risk of paying damages, but you get it) and she's doing what all free women should: publicly assessing her past boyfriends' sex skills. On Wednesday's episode of Call Her Daddy, Gwynnie and professional tabloid gossip elicitor Alexandra Cooper discussed the Goop maven's famous ex-boyfriends.
Man With Face Blindness has Married Two of World's Most Beautiful Women
Either you remember firsthand that Gwyneth was engaged to Brad Pitt from 1994 to 1997 and dated Ben Affleck from 1997 to 2000 or you've seen these pairings on Hollywood nostalgia porn Instagram accounts. Of her and Pitt's relationship and split, Paltrow told the host:
We sort of said, "Hi," on set, and it was like major, major love at first sight. It was crazy.

I think I was really a kid, like, really more so than a lot of 22- or 23- or 24-year-olds I would meet now. I really had not explored who I was, what was important to me, what my boundaries were. Anything like that.

I was totally heartbroken when we broke up, but it was just the right thing at that time, but it was really hard.
Generous of her to think that today's 22-year-olds have it together in any way, but, for many reasons, I'm glad her and Pitt knew to call it quits—if only so that now, nearly 30 years later, Cooper got her to play a game of "Ben or Brad." Immediately upon hearing the premise of the game, Gwyneth responded "Brad," which sort of spoiled the rest of the answers, but nevertheless it was highly entertaining.
Better style? "Brad," Gwyneth answered. This is true, but also somewhat unfair. No one from Massachusetts is ever going to be a style icon.
More romantic? Also Brad. Again, same logic as above but swap "style icon" for "romancer." Ben beat out Brad in having a better sense of humor and also making a funny mirror face when he passed reflective surfaces. The two tied when it came to who was more high maintenance (neither) and both were good kissers.
But Gwyneth made an important distinction between each leading man's fuck-styles. "That is really hard. Because Brad was like the sort of major chemistry, love of your life, kind of, at the time," she said. "Ben was, like, technically excellent."
Oof. I know she means the latter as a compliment but if someone told me I was "technically excellent" at sex, I'm not sure I'd be able to take it well. It's giving going down on me using the Alphabet technique. Nerd behavior!
---