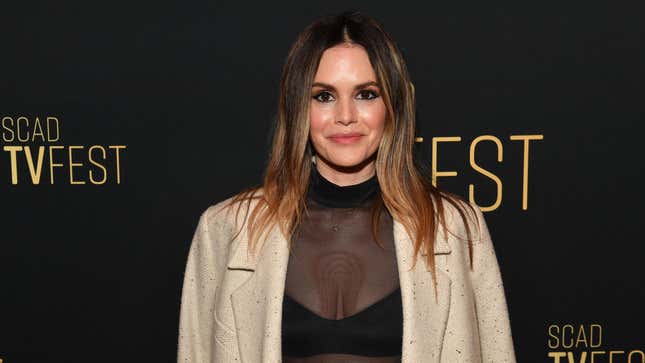 Rachel Bilson has boring-ass, regular old sex, and she wants to scream it from the rooftops! Good for her!
Rachel Bilson Says Her Daughter Can't Watch 'The O.C.' Until She's 35
On Wednesday, the The O.C. actor joined the Women on Top podcast to talk about her sex life—something she's been doing a lot of lately! Appearing alongside her own podcast co-host Olivia Allen (their podcast is called Broad Ideas—get it?! Broads!), Bilson told show co-hosts Roxy Manning and Tammin Sursok, "I like missionary."

"I've learned that if you want to have an orgasm during sex, you have to be on top," Bilson added. "But missionary is my favorite. I want to be fucking manhandled."

Rachel Bilson: a revelation! Learning on this lovely hump day that the 41-year-old likes missionary won't send a tidal wave through the kink or free love communities, of course. But celebrities talking about their sex lives out in the open is so rare that we must commemorate this moment—even if we are commemorating the plain mush oatmeal of sex positions. Talking about women's pleasure honestly is a welcome addition to the ever-bleak discourse, and if Rachel Bilson emerges as its unlikely figurehead? Great. We'll take whoever we can get.

Bilson's "least favorite" position, by the way?

"Doggy…depending on the actual dick," she explained. "Because it can go so deep and hurt."

Within four-ish sentences uttered on a podcast I've never heard of, Bilson has addressed many of the stigmas and issues around orgasms and feminine pleasure that plague regular people like you and me—you know, those of us who don't have the means to go on a Goop-led sexual wellness retreat with Gwynny P to learn about the superiority of flicking the bean. Achieving orgasm from penetration alone is not as common as the movies make it seem! Missionary, despite its vanilla label, is fine and nice! Penetrative sex is painful for many! And doggy objectively blows! Rachel Bilson's guide to perfectly OK sex, when?

Lest we forget, Bilson also made headlines about her sex life earlier this year when she told podcast guest Whitney Cummings that she didn't orgasm from vaginal sex until she was 38 years old (when, you'll note, she was dating big-dick-Bill Hader). She later clarified that it had "nothing to do with any partner," and everything to do with "knowing [her] body."(In a decision I still find baffling, Bilson opened up about this on The Nick Viall Files podcast in March: You will never catch me talking about my vagina with Nick Viall.)

The moral of the story is this: Whether you are a pillow princess who likes to be tucked sweetly under the covers while your partner grinds monotonously above you or an adventurous slut for shibari, we all deserve to be talking about what it takes to make us cum. Oh, and solidarity with all the doggy-haters out there!