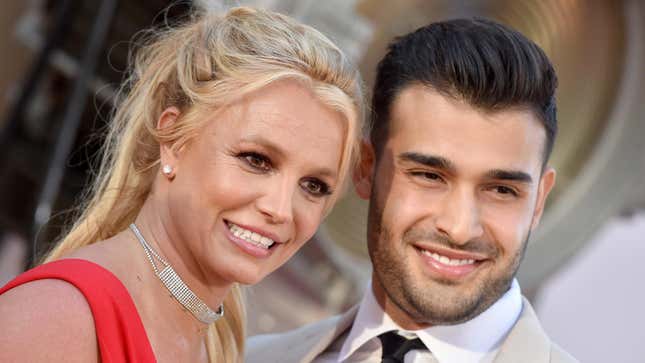 Amid a torrent of salacious headlines about his divorce from Britney Spears, Sam Asghari has finally spoken: "After 6 years of love and commitment to each other my wife and I have decided to end our journey together," he wrote on his Instagram stories on Thursday night.
"We will hold onto the love and respect we have for each other and I wish her the best always," Asghari continued, before adding a bizarrely glib, "shit happens." The statement then concluded with a plea for "everyone including media to be kind and thoughtful."
Huh, so, who's ensuring TMZ does the very opposite??? In the last 24 hours alone, the tabloid has reported that Asghari claimed his wife of 14 months cheated on him with a staffer at her home and also "attacked him in his sleep." Regarding the former, sources told TMZ that there's apparently footage of Spears and the unnamed staffer together in a "compromising position." (TMZ was the first to break the news about the couple's impending divorce, and has also been reporting some ugly allegations about Spears supposedly made by behind the scenes by Asghari over the last few months.)
Asghari's stated hopes of maintaining love and respect throughout the split runs counter to other reports, including one in Page Six alleging that he might retaliate by releasing incriminating information about his soon-to-be ex-wife if she doesn't reconsider their prenup. One "insider" told the tabloid that Asghari is currently focused on "attempting to negotiate concessions beyond his prenup and threatening to go public with extraordinarily embarrassing information about Britney unless he gets paid."
If the rumors are true, it's unclear how much of Spears' estimated $60 million fortune Asghari might be seeking. The current prenup, according to Us Weekly, stipulates that he would receive "$1 million per every two years" of their marriage, with a maximum of $10 million after 15 years. Asghari also has no claim of Spears' music catalog, or their shared home. There's also reported to be a confidentiality clause which would prohibit Asghari from speaking about his relationship with Spears.
However, according to a new report from—you guessed it—TMZ, Asghari wouldn't even get spousal support in the divorce, as it stands, though his lawyer, Neal Hersh, made sure to ask for it in the divorce filing. If the prenup is successfully challenged, TMZ claimed, the confidentiality clause would become unenforceable. That's worrying, considering all the rumors that don't exactly paint his soon-to-be ex-wife in the most flattering light.
Meanwhile, Spears has remained mum.

---