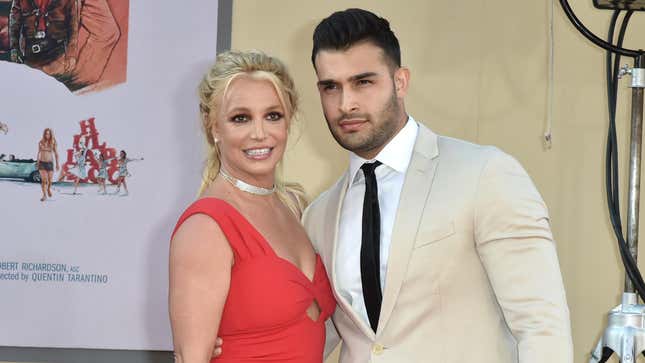 Well, it's been less than 24 hours since news of Britney Spears and Sam Asghari's split broke, but the couple's separation has already turned toxic.
On Wednesday, the fitness trainer-turned-actor filed for divorce, citing "irreconcilable differences." Now, according to Page Six, sources say that should Spears refuse to renegotiate their prenup, Asghari might retaliate by releasing incriminating information about his soon-to-be ex-wife. One "insider" told the tabloid that Asghari is currently focused on "attempting to negotiate concessions beyond his prenup and threatening to go public with extraordinarily embarrassing information about Britney unless he gets paid."
It's unclear how much of Spears' estimated $60 million fortune Asghari might be seeking, but the current prenup, according to Us Weekly, stipulates that he would receive "$1 million per every two years" of their marriage, with a maximum of $10 million after 15 years. Asghari also has no claim of Spears' music catalog, or their shared home.

But another Page Six source disputed the claim that Asghari is planning to extort Spears, and instead insisted that their breakup will be amicable: "It's blackmail and it'll never happen."
Yesterday, TMZ reported that Asghari accused Spears of cheating last week, and it devolved into a "huge fight." (TMZ, for the record, said that it did "not know if" the cheating "rumor has any basis in fact.") Over the past few months, TMZ has published other reports claiming that Spears has "gotten physical" in arguments with Asghari, and in May, alleged that "screaming matches" between the two "are not infrequent."
So far, neither Spears or Asghari have publicly addressed the split, but just hours after the initial reports, Spears posted an Instagram photo of herself on a horse. In the caption, she mulled whether to purchase one horse called Roar, or another named Sophie.

I mean, if I had just hired Laura Wasser—a divorce attorney who has worked with the likes of Kim Kardashian, Kelly Clarkson, Angelina Jolie, and, yes, Johnny Depp—I too would be pretty unbothered.
Here's hoping Spears is able to ride off into the sunset with all of her dignity—and dollars—intact.
---