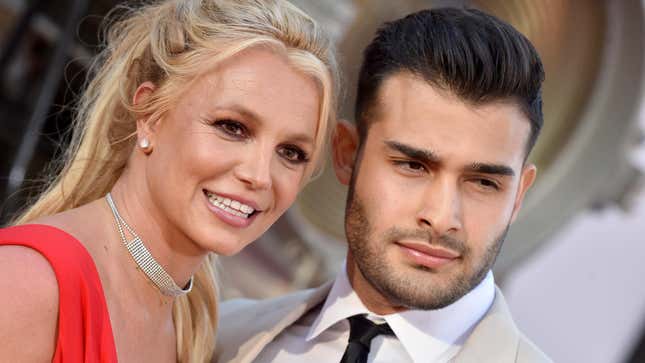 Sam Asghari, seeker of justice and avenger of the Princess of Pop, is waging a war against "clickbait" machine TMZ.
Britney Spears Escapes Family Drama By Going to First Bar
On Sunday night, Asghari, 29, who married Britney Spears in June 2022, posted a since-deleted Instagram story in a state of rage. He had just been notified that TMZ was preparing a documentary about Britney's life post-conservatorship and was shocked to hear that the gossip rag was targeting the singer yet again…even after everything she's been through.

"I found it absolutely disgusting for the people who were in her life when she didn't have a voice, they went and told her story like it was theirs," Asghari said. "All of a sudden—after 15 years when she's free after all those gaslighting, all those things that went down—now you're going to put her under a microscope and tell her story?"

TMZ shared early Monday morning that the documentary, titled TMZ Investigates: Britney Spears: The Price of Freedom, is set to air this evening. Unnamed "sources" told the outlet that Britney has allegedly "gotten physical with Sam" to the point that security has had to step in and that screaming matches between the two have become "frequent." Sources—whom I'm imagining as hooded figures with Deep Throat voices—also claim that Sam isn't at home with Britney very often, despite her purported reliance on him in her newfound freedom.

But Asghari, a former personal trainer-turned-actor, won't stand for such clickbait! Plus, he's right: After being released from her 15-year binding conservatorship, the last thing Spears needs is for her life to be picked apart, again, just as she's starting to heal.

"How are you going to take the most influential person of her generation, the Princess of Pop, America's sweetheart, and put her in prison where her father [Jamie Spears] tells her what to do, what water to drink, who to see and use her as a money-making machine?" Asghari asked. "No, no, that's also disgusting, so don't do that, and don't believe what you read online."

It's true that Britney's every movement, gesture, Instagram caption, and blink of an eye has been analyzed to hell and back by concerned #FreeBritney netizens and paparazzi. This crowd, despite successfully helping to free Spears, was fairly recently convinced that she never returned from her honeymoon and that Asghari was running her Instagram account…all because she reposted an old video. Can't a gal reminisce on her younger, more carefree self by reliving erotic dance routines performed in her living room?!

All of the "gaslighting and shit" has to stop, Asghari concluded. You heard the man. Shut it down!