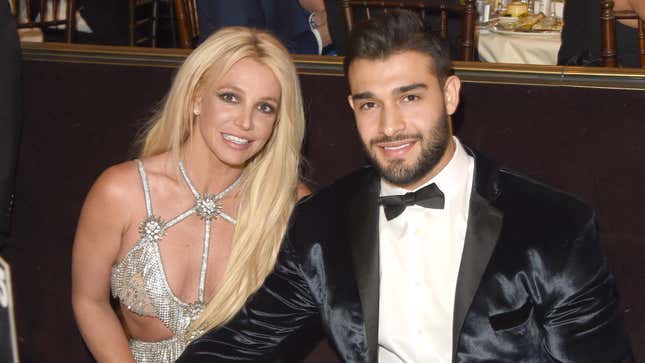 Britney Spears cannot catch a break. TMZ reported on Wednesday afternoon that she and her husband of one year, Sam Asghari, have split up and, as a source told the tabloid, it's "only a matter of time" until they get divorced.

According to TMZ, last week, Asghari accused Spears of cheating, and it devolved into a "huge fight." (TMZ, for the record, wrote that "We do not know if the rumor has any basis in fact." Noted.)
Over the past few months, TMZ has published multiple reports alleging that Spears has "gotten physical" in arguments with Asghari, and in a perverse sort of documentary the tabloid put out in May, alleged that "screaming matches" between the two "are not infrequent."
For his part, Asghari, a personal-trainer-turned-actor, vehemently defended his wife against TMZ's prying eyes: "How are you going to take the most influential person of her generation, the Princess of Pop, America's sweetheart, and put her in prison where her father [Jamie Spears] tells her what to do, what water to drink, who to see and use her as a money-making machine?" he wrote in an Instagram story he deleted almost immediately in May. "No, no, that's also disgusting, so don't do that, and don't believe what you read online."
Spears and Asghari married in June 2022 after five years of dating. During most of that period, she was under the conservatorship of her father, Jamie Spears, who controlled her life, money, and bodily autonomy for nearly 15 years. Jamie, Lynn (her mother), and Jamie Lynn (her sister) did not attend the wedding; neither did her teenage sons with ex-husband Kevin Federline. (A few weeks ago, Spears's boys moved to Hawaii to live full-time with their father and his fiancé.)
The tabloid said on Wednesday that Asghari had not been sleeping at their shared house much in recent weeks.
As of publication time, multiple Instagram posts of him and Spears remain up on his Instagram account. And while Spears' account is as chaotic as ever, a carousel of photos she posted to mark his birthday earlier this year also remained live.