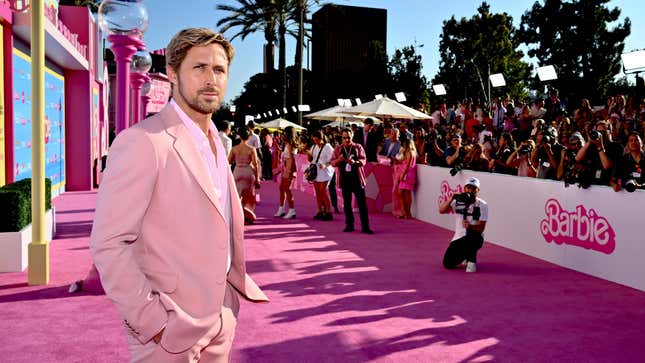 Ryan Gosling's hometown of Cornwall, Ontario, is best known for its stench.
Despite the fact that the Domtar paper mill printed its final sheet in 2006, the putrid, sulfuric smell from the pulping of wood chips continues to precede the reputation of the small Canadian town right across the river from Massena, New York. Mention to someone you're from Cornwall, and they'll likely make "the face," friends and family of the actor told me at lunch last Friday—unofficially, the town's first Ryan Gosling Day!—after a private Barbie screening.
Stink notwithstanding, Gosling has made a point of shouting out his roots, from his 2015 Saturday Night Live opening monologue to a recent GQ cover story. And with a glittery pink carpet rolled out at the local movie theater to celebrate his turn as the one and only Ken, residents hoped some of the shine from Barbieland would cut through the border town's "inferiority complex," as Gosling's high school friend Erin Fry referred to it. In some ways, Barbie is like "escaping reality, creating your dream world," Fry said. "The fact that like, our guy—Ryan! from our town!—he's playing the iconic Ken, how cool is that?"
The day starts off with me having the distinct pleasure of telling a Canadian border agent that I'm going international to attend a Barbie screening in honor of hometown boy Ryan Gosling. ("He's from Cornwall?" the agent asks me. "He is!" I assure him.) I soon enter town and drive by an outdoor performance space where I imagine a young Mouseketeer-era Gosling once did the running man. There's also a banner advertising an upcoming poutine feast. We're definitely in Canada.
I arrive at the theater at 9:15 a.m. and shortly thereafter, around 50 of Gosling's family members and friends begin to file in. I spot a burgundy-haired woman with a homemade sign hanging from her neck featuring the photo of Gosling as Ken used in the Barbie marketing. After I ask her for a photo, she offers me a bright pink, bubblegum breath mint. A Gosling family friend named Ashley walks in with her 8-year-old daughter Aisley, who's wearing all pink; Ashley, a hairdresser, keeps fixing Aisley's platinum blonde hair to make sure her curls fall just so, and reminds her to do the poses they'd practiced for photos. Later, I spot Gosling's Aunt Barbie (yes, that's her real name), who sports a hot pink cold shoulder top, which matches her hand-beaded medallion that says "I'm Just Ken." It was made and presented to her by local artist Niiostoseraah Thompson of the nearby Akwesasne Mohawk First Nation. Aunt Barbie is supposed to hand over the medallion to her nephew at a later date.
Once the screening gets underway, each and every line from Ken elicits a reaction in the theater. He isn't the most sympathetic character; case in point, he takes an incel-like turn that no one in the audience—myself included—is prepared for.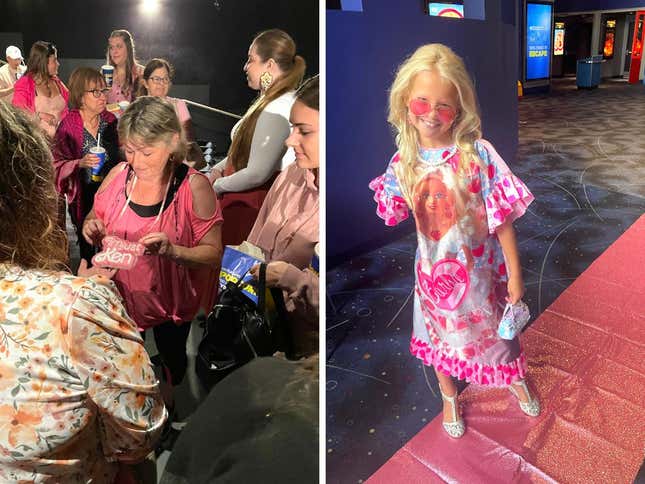 In the film, Barbie and Ken escape to the real world, and Ken finds a stack of books about the patriarchy in a school library. He brings that knowledge back to Barbieland and infects it with misogyny, wiping out the all-woman Supreme Court and leaving the Barbies to reverse the damage. Things get dark, and heavy, and a far cry from an earlier scene when he excitedly described his job as "beach." Suddenly a theater of mostly women dressed in pink are confronted with the cruel paradox of womanhood, and it's because of a character played by their guy Ryan. After America Ferrera's character gives a speech about the impossible demands put on our kind, one woman says out loud, "That sums it up."

Even still, Gosling's friends and family hoot and holler through his rousing musical number, "I'm Just Ken," and their faces light up whenever his bleached blonde hair, spray tan, and impossibly chiseled abs filled the screen.

Gosling rarely visits. His friends and family estimate that he hasn't been back since 2012, and when I ask his high school bestie Mike Warner to tell me the last time they spoke, he says: "It's been a little while. I met both of his daughters, and they're lovely. And I met Eva [Mendes, his wife], and she's incredible."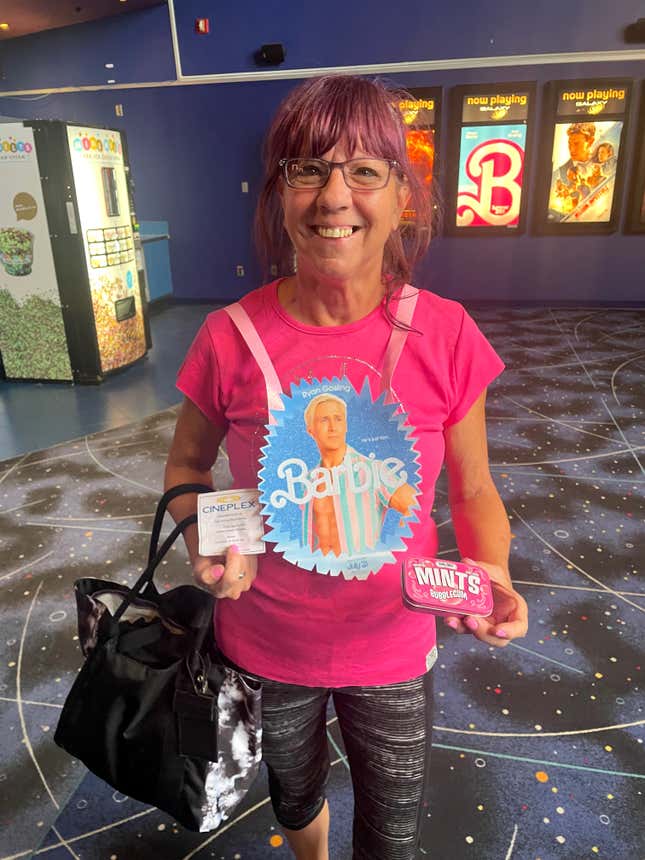 "They're very private," Gosling's first cousin Carrol Seguin confirms. She shows me a photo of a young Gosling posing with their Uncle Perry—an Elvis impersonator who Gosling has said inspired him to perform. I press Seguin to tell me a bit more about why her younger cousin, who she used to babysit once upon a time, doesn't come back home. "It's just more on a personal level that Ryan keeps private," Seguin says. "It's the family issues that we all have…but he would not want me to discuss."
Before the screening, event organizer Kelly Bergeron had stood a the front of the theater and addressed the crowd. "Another thing I wanted to mention was the part about this film and the social impact it's gonna have on people, and people feeling represented in film and TV and in general," she said. "And it's just really important that we celebrate that success, and how adversity helped mold Ryan into a nice human being who was able to overcome it and shine on his own."
Family issues, instances of bullying, and a tough upbringing are all alluded to throughout the post-screening lunch, where across the street a hair salon has giant cut-outs of Gosling's face plastered to its storefront. Folks mention "jealousy" from other kids growing up, and how some of that persists to this day, even though the actor is now 42. There are multiple points when I think someone might let a detail slip about the nature of Gosling's "adversity," but they stiffen instead, putting a steel wall up to honor his privacy. The GQ profile offers a cliffs notes version—"His parents split up. He was raised in the Mormon church. He did not have a lot of friends, or an easy time with school"—but goes no further.
Despite the time and distance, Gosling's family and friends remain fiercely protective of him. When I ask how he would feel knowing they were speaking to a reporter about him, they seem unconcerned. "It is a great conversation about him," Warner says. "Honestly, there aren't too many people who have anything negative to say about Ryan. He's in the Tom Hanks category or George Clooney category where like, you don't hear bad stories about them."
According to Warner, Gosling's public references to Cornwall go all the way back to 2004's The Notebook, the film that put him on the map as a heartthrob. Noah (Gosling) lies down in the middle of the road and tells Allie (Rachel McAdams) to join him to watch the stoplight change. The inspiration behind the romantic bit of whimsy apparently came from memories of a teenage Gosling and Warner lying in an intersection, eating 7-Eleven hot dogs and drinking slurpees, talking about girls and dreaming of leaving their small town. "That's his homage to Cornwall that has made it onto the big screen," Warner says.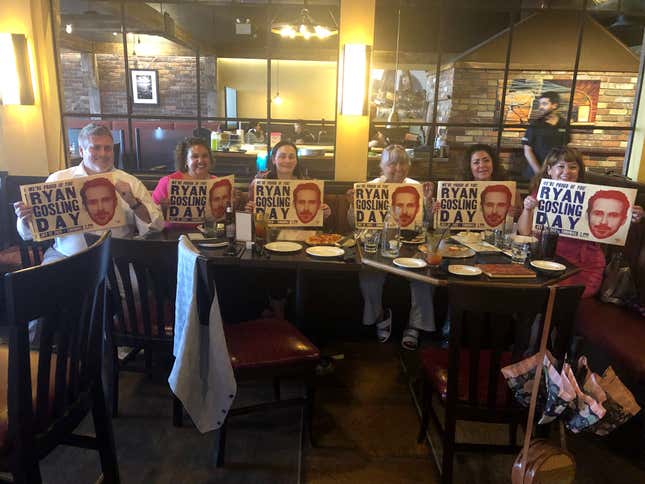 Gosling's friends and family wonder aloud why it's taken so long to have any sort of event honoring him in town, but don't blame anyone or anything in particular. Even after he nabbed Oscar nominations in 2007 and 2017 (for Half Nelson and then La La Land), it just never happened. Perhaps there's a bit of mutual ambivalence between the town and him. Or maybe it took the overwhelming excitement of being in the movie of the year to make them realize it was time to claim him as their own. Napanee, Ontario, is synonymous with Avril Lavigne. The folks of Cornwall want that with Gosling.

At one point in Barbie, Gosling's Ken declares: "Here I'm just a dude, and that's enough." And back home in Cornwall, he's clearly Kenough.