The buzz is that Crystal Renn will make an appearance on the runway of the Chanel Resort 2011 show in St. Tropez today. Let's not forget: Chanel's head designer and creative director, Karl Lagerfeld, once said:
"No one wants to see curvy women. You've got fat mothers with their bags of chips sitting in front of the television and saying that thin models are ugly."
Since then, Kaiser Karl shot a story for V Magazine's spring 2010 issue, which included mostly plus-size models. Though Crystal Renn was featured in the magazine, Lagerfeld's shoot was with undeniably curvy burlesque performer Miss Dirty Martini. (Crystal Renn was shot alongside Jacquelyn Jablonksi by Terry Richardson.) Why would Unkle Karl, who has made no secret of how much he hates fat, hire Crystal Renn to walk on his runway?
Maybe it's because Crystal is not, you know, fat. Maybe it's because Lagerfeld saw the images of Crystal in V and realized how stunning she is. Perhaps he, like American Glamour, French Glamour, Polish Elle, French Elle and French Vogue, realized that people do want to see curvy women. Or maybe Karl Lagerfeld, the man who claims he "has no human feelings," had a change of heart. But most probable? The 76-year-old Führer of Fashion is afraid of being behind on a trend.
G/O Media may get a commission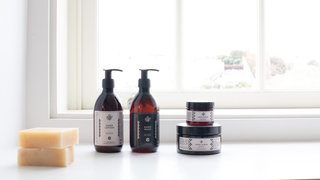 Exfoliate and Hydrate
The Handmade Soap Company
Model Talk: Crystal Renn to Walk Chanel Resort Show Tomorrow; Ymre Stiekema Returns to Modeling Full-Time [Fashionologie]
Crystal Renn and Georgia May Jagger to Walk in Tomorrow's Chanel Resort Show [Fashionista]
Earlier: The Pros & Cons Of V Magazine's Plus-Size Issue
V Magazine Can't Put A Plus Size Model In Its Pages Without A Straight Size Model For Comparison
So, Why Are Plus-Size Models So Often Naked, Anyway?
French Glamour Does Plus-Sizes Right
Plus-Size Ladies Embraced By Polish Elle
French Elle's First "Curvy" Issue Introduces Us To Tara Lynn, Capes
French Vogue Features Crystal Renn… And Her Pubic Hair
Related: Kaiser Karl's Kraziest Kuotes
Lagerfeld Slams Big Women; Louboutin Slams Barbie's Ankles
[Image by Norman Jean Roy via Glamour Magazine]