Chanel's creative director says the darndest things. Whether it's picking fights with "heavy" Heidi Klum, or calling Yves Saint Laurent "very middle-of-the-road French, very pied-noir, very provincial," or dissing "fat mothers with their bags of chips," Lagerfeld's krazy goes deep.
"There's no Chanel collection without black. (It) will never exist. Who can live without some black clothes."
The designer takes a bow at the conclusion of his all-white Chanel couture show, February, 2009.
G/O Media may get a commission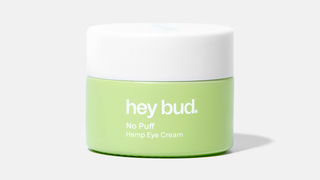 15% off
Hey Bud - No Puff Hemp Eye Cream

"What I hate most in life are people who are not really the peach of the day but who want to be young and sexy. You can fool nobody. There is a moment when you have to accept that somebody else is younger and fresher and hotter."
Lagerfeld in Harper's Bazaar, September, 2008.


"Life is not a beauty contest."


"The discussion of fur is childish." Furriers make a living "killing those beasts who would kill us if they could."


"There are nearly 30 per cent of young people who are too fat. So let's take care of the zillions of the too fat before we talk about the percentage that's left."
Karl Lagerfeld in 2000, when he was still fat, and Devon Aoki still modeled.


"When I was four, I asked my mother for a valet for my birthday."
At the Paris Hotel des Monnaies, holding a gold commemorative Coco Chanel coin worth 5,900 euros.


"I wish her all the luck in the world, just so long as I don't have to see her any more or hear her spoken about."
Karl and then-muse Ines de la Fressange in happier times on French television, in 1987.


"I am a sort of vampire, taking the blood of other people."
"I'm a kind of fashion nymphomanic who never gets an orgasm."
"I have no human feelings."
"Vanity is the healthiest thing in life."