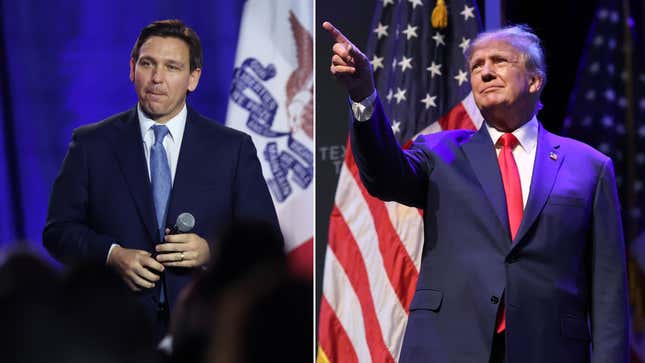 The campaign trail for the 2024 presidential election has, for whatever reason, begun in earnest even as we continue to worm our way through 2023. And Florida Gov. Ron "No Charisma" DeSantis (R) has all but confirmed he's running for president by finally, finally taking his first swings at former President Trump, the obvious front-runner for the Republican nomination—if you can even call them swings.

Ted Cruz Won't Commit to Pleasuring a Man to End World Hunger
On Monday, DeSantis mumbled a bit about the criminal investigation into Trump's alleged illegal payments made to Stormy Daniels in 2016. And in snippets released from an interview with Piers Morgan to air Thursday, DeSantis took some more listless (hopefully warm-up?) swipes, subtly hitting the former president on his "daily drama" and varying very public personal messes without ever naming him.
"So, the way we run the government, I think, is no daily drama, focus on the big picture and put points on the board, and I think that's something that's very important," DeSantis told Morgan. Character, he insisted, also matters when it comes to the office of the presidency, historically held by slave owners, imperialists, and segregationists. "At the end of the day, as a leader, you really want to look to people like our Founding Fathers," DeSantis preached to the British host best known for harassing Meghan Markle. "What type of character are you bringing? I think the person is more about how you handle your public duties and the kind of character you bring to that endeavor."
The Florida governor also called out Trump, indirectly of course, for being a pathological liar. "Truth is essential," he said. "We have to agree that there's a certain reality to the world we live in, and if we can just create our own facts, then we're never going to be able to agree on anything or never really be able to do policy in a way that makes sense, and so, yes, it's not your truth or my truth, it's the truth." Too my words, my guy—I fell asleep before the halfway point.
This latest round of dweeby dunking comes after DeSantis alluded to all the Mess™ surrounding Trump and Daniels, an adult film star whom Trump allegedly sent hush money to in exchange for silence on their alleged affair, earlier this week. "I don't know what goes into paying hush money to a porn star to secure silence over some type of alleged affair. I just, I can't speak to that," DeSantis said.
Speaking of "character," DeSantis has made his pretty clear: He's a 44-year-old man engaging in a now-year-long feud with Mickey Mouse. He's obsessed with bullying every LGBTQ kid in his state. He's trying to ban trans people and drag while, as many have observed, wearing high-heeled cowboy boots to give himself a couple more inches. And more and more evidence points to his role in condoning torture at Guantanamo Bay. Point is, DeSantis and Trump and just two sides of the same fucked up coin.
And still, for all his bluster, DeSantis has yet to call out the former president—and his former friend—by name. His comments are essentially a long, boring subtweet, and that's kind of embarrassing for him as Trump workshops one disparaging nickname after another for DeSantis, from "Ron DeSanctimonious" to "Meatball Ron" to my personal favorite, "Tiny D." Trump has gone so far as to disseminate photos of DeSantis appearing to drink and party with teens and framing him as a (possibly queer?) groomer. DeSantis may think he's taking the "high road" and impressing voters with his maturity and professionalism, but what he doesn't seem to understand is that he's vying for a nomination that for the last two cycles has been won by the nastiest person in the room. A man who called both Ted Cruz's wife and fellow Republican candidate Carly Fiorina ugly and essentially publicly accused Marco Rubio of having a micropenis.
Still, it's not just the fecklessness of DeSantis' attacks that I find laughable—it's the predictable hypocrisy of it all. Trump is a fucking mess, obviously; the reality TV star inside him never left when he entered politics, merely mutating to fit into a new arena. But it's funny to hear DeSantis hit Trump over "daily drama" when daily drama is spraying out of his own administration in Florida like a firehose.
If we're going to have to watch these two ghouls, both of whose policies aim to write marginalized people out of existence, publicly battle each other, Meatball Ron at least could step up and make it a fair (and more interesting) fight.