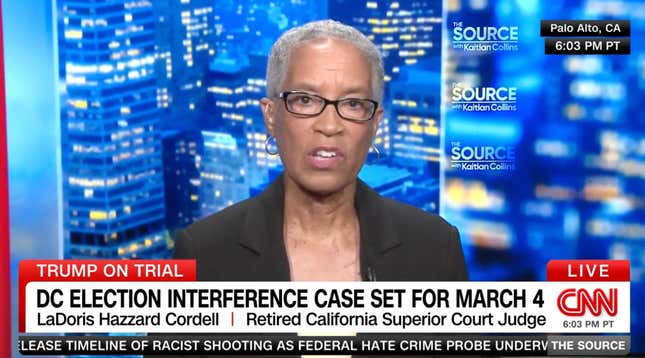 Donald Trump will stand trial in Washington, D.C., for charges of trying to overturn the 2020 election on March 4, 2024—a day before Super Tuesday voting in the Republican presidential primary. This is not for lack of trying by the Trump legal team, who originally aimed for a 2026 trial via a "stunningly stupid move," as one CNN analyst put it.
Ted Cruz Won't Commit to Pleasuring a Man to End World Hunger
In their quest to put off one of Trump's four concurrent legal battles on Monday, the former president's legal team cited the Supreme Court case Powell v. Alabama, which overturned the convictions of the Black young men accused of raping two white women in the 1930s, retired California Superior Court Judge LaDoris Hazzard Cordell explained Monday night. "And what the Trump team did was say that, 'Well, what happened in that trial is what could happen here, in this trial,' which is absolutely absurd," Cordell told CNN on Monday night.
The nine boys—usually referred to the Scottsboro Boys— were indicted and on trial within a week. They didn't even get to chose their own attorneys. (Both reasons were the basis of the Supreme Court overturning their convictions in 1932.) But Trump's "trial date is seven months out. He has experienced lawyers, a whole team of investigators, and it was stunningly stupid, because one, the comparison is ridiculous," Cordell said. "But second, if you want to alienate a judge, in a case? This was exactly what to do."
Cordell said she thought that U.S. District Judge Tanya Chutkan was "offended" by the argument. "So, hopefully, there's a learning curve, on the lawyers' side, to not go rogue like this again and take cases that have absolutely nothing in common and try to show that they do have something in common, which in this case, they did not," Cordell said.
The trial date was just the latest legal loss Trump experienced. Last week he was booked into the Fulton County Jail in Atlanta for his accused role in a sprawling racketeering case to overturn the 2020 election. It was the first time Trump had to have a mugshot taken.
Chutkan's decision seem to rankled Trump from afar, and he vowed to appeal the trial date. Appealing a trial date isn't possible, mind you, but this hasn't stopped Trump from telling his Truth Social followers it's possible—and Cordell noted that outside talk that will be also a problem for Trump's lawyers.
"He is a nightmare for his lawyers. I mean, you have somebody like Trump, who has a fragile ego, who is a misogynist, who is a racist, in my view, and who also has this constant need to talk? Then, there's a term for that, logorrhea. Then, that is a real problem," she told CNN. "It's going to be an issue for his lawyers to try to keep him quiet, even in the courtroom."
Having Trump in the court room will be...a lot. "A Black woman judge is going to be there, telling him when he can talk and how to behave," Cordell said. "So, this is going to be a very interesting, interesting trial."