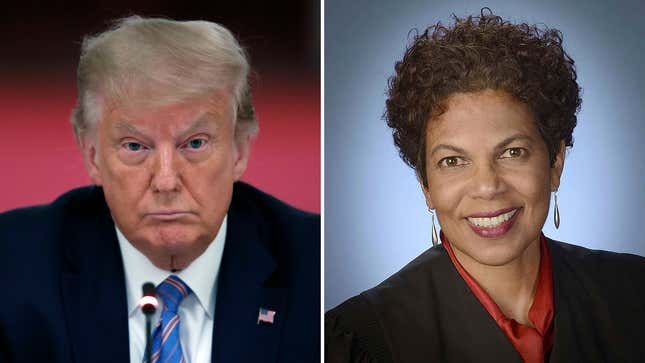 Former President Donald Trump was indicted Tuesday on federal charges related to the January 6 insurrection, which is his third indictment but his first for actions he took while president. As if that wasn't bad enough news, the judge randomly assigned to this case is an Obama appointee who has thrown the book at January 6 rioters and been highly critical of Trump himself.
Ted Cruz Won't Commit to Pleasuring a Man to End World Hunger
Trump drew U.S. District Judge Tanya Chutkan, who's given the insurrectionists harsher sentences than the government has asked for. Here's how the Washington Post summarized her record:
Chutkan has been the toughest sentencing judge on the D.C. federal court for Jan. 6 defendants, according to a Washington Post database. Through mid-June, Chutkan sentenced every one of the 31 defendants to have come before her to at least some jail or prison time. She has exceeded prosecutors' sentencing recommendations nine times and granted them 14 times, while court-wide, judges have sentenced below government recommendation about 80 percent of the time.
She once said from the bench, "It has to be made clear that trying to violently overthrow the government, trying to stop the peaceful transition of power and assaulting law enforcement officers in that effort, is going to be met with absolutely certain punishment."
And Chutkan has ruled in a Trump case before. Trump sued the House's January 6 Committee and the National Archives in an attempt to stop the Archives from handing over documents related to the Trump administration's actions before, during, and after January 6. He claimed he still had "executive privilege" over the files, even though he'd left office months before. Chutkan rejected Trump's bid in November 2021, and House investigators got the documents. She wrote: "Presidents are not kings, and Plaintiff is not President. He retains the right to assert that his records are privileged, but the incumbent President 'is not constitutionally obliged to honor' that assertion." (The Supreme Court let her order stand by an 8 to 1 vote, with only Clarence Thomas, spouse of election denier Ginni Thomas, dissenting. Huh!)
Politico wrote that her ruling "trigger[ed] perhaps the greatest deluge of evidence about his bid to subvert the 2020 election." After the House got the documents—which included call logs, strategy papers, and memos—they referred Trump to the Justice Department for criminal charges. Special Counsel Jack Smith took over and finally charged Trump on Tuesday with four criminal counts.
Chutkan was born in Kingston, Jamaica, and moved to the U.S. for college, and I am cringing at the thought of the racist insults that Trump and his supporters will be throwing her way.
Trump now faces a total of 78 criminal charges and counting: these four, plus 40 charges in the classified documents case and 34 counts in New York for trying to conceal hush-money payments to Stormy Daniels. And we're still waiting on possible charges out of Georgia.