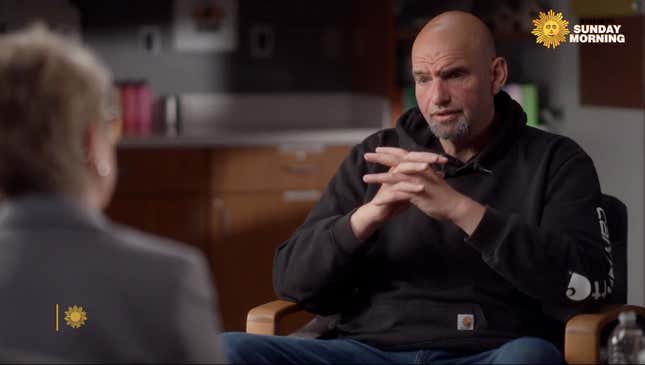 On Friday, freshman Sen. John Fetterman (D-Pa.) was released from Walter Reed hospital, where he'd checked himself in about six weeks ago to receive treatment for clinical depression that had become severe. In his first interview about his treatment, Fetterman—who's now in remission—said that winning a crucial and at times ugly Senate race in November kicked off a "downward spiral" of depression that left him unable to get out of bed. It most certainly didn't help that conservatives—and the media in general—had an ableist meltdown over his recovery from a stroke, which can itself lead to clinical depression. He's set to return to the Senate the week of April 17, when the session resumes after a recess.
CBS Sunday Morning anchor Jane Pauley interviewed Fetterman at Walter Reed two days before his release. Appearing alongside his wife, Gisele Barreto Fetterman, he opened up to Pauley about the weeks after winning the key race against Dr. Mehmet Oz and flipping a seat from red to blue. "It's like, you just won the biggest, you know, race in the country. And the whole thing about depression is that objectively, you may have won, but depression can absolutely convince you that you actually lost," he said. "And that's exactly what happened. And that was the start of a downward spiral."
Fetterman had a stroke in May 2022, and experts have noted that depression is unfortunately common after a stroke. The senator struggled to get out of bed, wasn't eating or drinking fluids, and had stopped engaging with "most things that I love in my life." He managed to travel to Washington, D.C., to be sworn in on January 3, but Pauley said people close to him said he "looked miserable and lost" on that day. "Yeah. Well, I was definitely depressed," he laughed.
Pauley said she'd understood that Fetterman was "agnostic" about the prospect of continuing to live. "Yeah. Well, I never had any self-harm, but I was indifferent, though," he said. "If the doctor said, 'Gee, you have 18 months to live,' I'd be like, 'Yeah. Okay, well, that's how things go.'" A concerned doctor started to make arrangements at Walter Reed, and Fetterman agreed to go.
Here's a clip, and the full interview is on YouTube:
In one exchange that gets cut off in the above clip, Fetterman starts choking up a bit about his struggle:
Fetterman: "You know, the day that I go in was my son's birthday. And I hope that for the rest of his life, his birthday will be joyous, and you don't have to remember that your father was admitted."

Pauley: "Oh, but wait: This is where your renewal began. His birthday is a day for both of you to celebrate."

Fetterman: "Well, that's a good way to look at it. I'm looking forward to doing that."

Pauley: "You seem hopeful."

Fetterman:"For the first time, yeah. It's a strange feeling for me to have."
In another clip, Fetterman talks about how his oldest son, age 14, didn't understand why he couldn't get out of bed. He won—he should be happy, right? Gisele then noted that people who haven't experienced or witnessed depression may not get it, either. "I think the outside would look and say, 'How does this happen?' But depression does not make sense, right? It's not rational."
Fetterman shared that doctors at Walter Reed also discovered a hearing deficit in addition to his existing post-stroke sensory processing differences. He told Pauley, "I can understand much of what you're saying. But my hearing has a deficiency that makes it difficult for me to fully understand 100 percent of it." He uses closed captioning devices to communicate in person, and the Guardian reported that he's now wearing hearing aids.
Fetterman said in a statement upon his release Friday: "I am so happy to be home. I'm excited to be the father and husband I want to be, and the senator Pennsylvania deserves. Pennsylvanians have always had my back, and I will always have theirs."
He continued: "I am extremely grateful to the incredible team at Walter Reed. The care they provided changed my life. I will have more to say about this soon, but for now I want everyone to know that depression is treatable, and treatment works. This isn't about politics — right now there are people who are suffering with depression in red counties and blue counties. If you need help, please get help."
Wishing you continued health and happiness during your recovery, Senator.