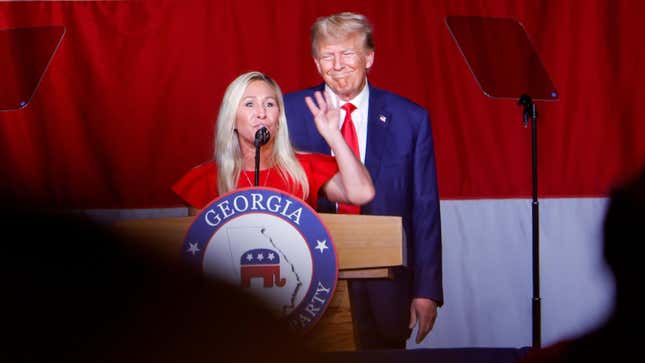 Rep. Marjorie Taylor Greene (R-Ga.) revealed she's still weighing a Senate run, but won't make any promises (threats?) quite yet, as she still hopes to be Donald Trump's vice president—even as he's about to be booked in a jail in Greene's home state of Georgia.

Ted Cruz Won't Commit to Pleasuring a Man to End World Hunger
Speaking to the Atlanta Journal-Constitution this week about a possible Senate bid, Greene said, "I haven't made up my mind whether I will do that or not. I have a lot of things to think about. Am I going to be a part of President Trump's Cabinet if he wins? Is it possible that I'll be VP?" The Georgia Congresswoman characterized being Trump's running mate as "an honor" that she'd consider "very, very heavily." Consider her application submitted.
Greene's comments come after Trump on Monday was indicted for a fourth time on 13 felony charges and for leading a "criminal racketeering enterprise" to try to overturn Georgia's 2020 election results. That the congresswoman still seems confident she could wind up by his side in the White House is a level of confidence to which I can only aspire—all the more so with this latest, damning indictment against Trump taking place in her own backyard.
Greene also offered scathing criticism of Georgia Gov. Brian Kemp (R), who is among few Republicans who have spoken out against Trump for his possibly criminal behaviors in Georgia in the wake of the 2020 election. After Kemp on Tuesday doubled down on insisting Georgia's voting system had not been rigged in 2020, Greene accused Kemp of siding with Fulton County District Attorney Fani Willis, who brought the charges against Trump.
"[Kemp's] message should have been against this, not arguing with President Trump about the election and making it about his own ego and pride over Georgia's election. That's a bad statement, and I was very upset over it," Greene said, also questioning how Kemp's anti-Trump stance will affect his political future in a possible reference to speculation that Kemp will run for Senate in 2026.
To be certain, Trump appears to be cruising toward the Republican nomination without much opposition, but there's no telling where the dozens of criminal charges he faces might go in the coming months. As for his running mate for 2024, Greene faces a crowded field of competitors, including Arizona's Kari Lake—who's practically become roommates with Trump in recent months—and Greene's own nemesis in Congress, Rep. Lauren Boebert (R-Co.)—or, as Greene has called her, that "nasty little bitch."
If Greene had any good sense, she wouldn't pin her career aspirations on the off chance that Trump doesn't wind up in prison or choose someone smarter and less toxic for a running mate. But alas, she's absolutely hitched her wagon to his, and I'd love to watch them both drive off a cliff together.