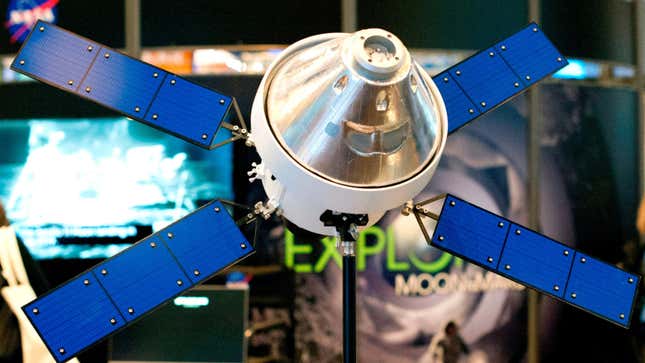 Abortion bans have proven so unpopular among the American people that they're costing politicians their elections—like a critical Wisconsin judgeship. And now, Alabama could officially lose out on acquiring the job-creating headquarters of a military branch because of its draconian abortion ban.

What is Going On With Deshaun Watson's NFL Suspension?
The U.S. Space Command—which was founded in 1985 (and is not to be confused with its subsidiary Space Force)—is currently headquartered in Colorado Springs, Colorado, where it's been for the last 33 years. But in January 2021, the U.S. Air Force announced the headquarters would move to Huntsville, Alabama, by 2026. Those plans have now stalled and, according to a new report from NBC News, the White House is looking to keep the headquarters in Colorado, due in part to Alabama banning pretty much all abortions after Roe fell.
"This normally would not be a political decision," an official told NBC News on Monday. "This is all about abortion politics."
Looming over the potential relocation is the military's new-ish abortion policy. In March, the Pentagon began offering three weeks of administrative leave for servicemembers and their dependents for abortion-related travel. The Defense Department is not paying for abortions, to be clear—they are literally just giving people time off to travel for their procedure. Military members and families largely do not get to pick where they are stationed and therefore do not get a say in what state laws will govern their bodily autonomy.
This upset Sen. Tommy Tuberville (R-Ala.), so he started holding up hundreds of military members' promotions in March over the abortion issue. Not only does Tuberville represent the state where the new Space Command headquarters could be, but he's made his anti-abortion fight against the military incredibly public: "He's not helping," an administration official told NBC News of whether Tuberville's hissy-fit over the Pentagon's new policy is fueling the decision. Another said the delay in announcing the command center's final location is because "they don't want to aggravate Tuberville even more."
The White House has disputed this characterization, saying "Alabama's abortion ban was not a factor in its ongoing review of the decision to build Spacecom's permanent headquarters there," reporters Courtney Kube and Carol E. Lee wrote. "A White House official said that access to reproductive health care does not weigh in to making the decision about location."
A quick summary of how we arrived at reproductive rights playing a role in all this in the first place: Trump announced that the headquarters would be moving from Colorado to Alabama days before he left office in 2021. Colorado politicians then accused him of awarding the HQ to Alabama, whose governor claimed the 2020 election was stolen, to reward the state for voting for him. Colorado officials, for their part, have been fighting the move ever since. (Tuberville has previously said they're all suffering from "sore loser syndrome.")
After Biden took office, the White House ordered two reviews into whether the decision to move Space Command HQ to Alabama was politically motivated, and whether Trump was "single-handedly" responsible, as he claimed at the time. Both reviews found that the selection of Alabama—over the currently temporary Colorado Springs home—was legitimate, but the government watchdog recommended establishing public criteria for future decisions.
In December, the White House ordered another review of the move, which of course, came months after Alabama's aforementioned abortion laws. And in March, Secretary of the Air Force Frank Kendall said that the decision was given to him by Defense Secretary Lloyd Austin, "and that's where it stands today." Just weeks ago, on April 27, Kendall said he's still not ready to make an announcement: "We're trying to take into consideration all possible factors that will affect the final decision." (Possible factors possibly meaning that Alabama's lack of reproductive rights could hurt recruiting and their employees' wellbeing.)
According to NBC News, Biden's people told the Pentagon's people that they're worried the move would needlessly disrupt a large branch of the military during a heightened period of international unrest, which includes military competition in China and the war in Ukraine. "We cannot take our eye off the ball right now," one U.S. military official told NBC News.

Which brings us back to Tuberville: In the past two months, he's gained allies like Sen. Mike Lee (R-Utah) as he continues to hold up important military promotions. (One flashy posting going unfilled is Biden's selection for chief of staff of the Army.) Tuberville's antics are expected to continue as the administration will make a number of prestigious nominations soon, including the next chairman of the Joint Chiefs of Staff and the head of North American Aerospace Defense Command (NORAD, the people who track Santa in addition to a number of important duties).

"The belief is they are delaying any move because of the abortion issue," another official told NBC News. So for now, Space Command remains in Colorado Springs, Tuberville remains in office, and abortion remains supported by the majority of Americans. I can't believe it's only Tuesday.