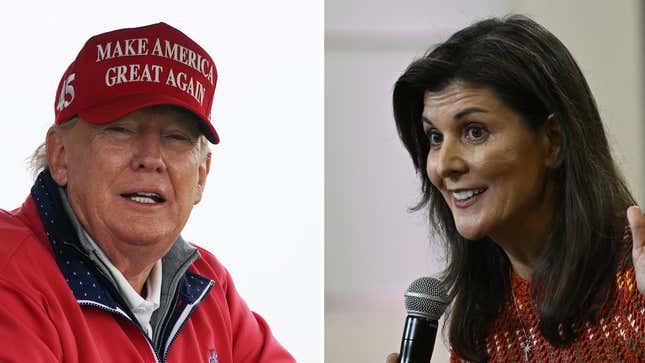 We're being forced into the 2024 presidential election far too early. This is giving political reporters ulcers—and it's also giving Republican candidates more and more opportunities to flounder about just how much they want to restrict abortion. Though they consistently agree that talking about banning abortion does them no favors (because it is extremely popular), they continue to spout their extreme anti-abortion opinions at nearly every opportunity.

Alison Leiby Believes Abortion Can Be Funny — Really Funny!
"I think the media has tried to divide [the American public] by saying we have to decide certain weeks," Republican hopeful Nikki Haley said of abortion ban specifics on Face the Nation on Sunday. "In states, yes. At the federal level, it's not realistic." (A classic, noncommittal politician sentence.)
In a direct contrast, Sen. Tim Scott (R-S.C.), who is exploring running for president, went hard out of the gate, saying he supports a 20-week federal abortion ban. "It makes total sense to me," he told New Hampshire media in April. Hilariously, he walked that back almost immediately.

Former Arkansas Gov. Asa Hutchinson (R) said last year—before Dobbs sent abortion policy back to the states—that the state-level abortion ban he signed into law should be reconsidered to add rape and incest exceptions if Roe was overturned. Well, here we are, and Hutchinson has maintained that he'd support a national abortion ban if it includes some exceptions. (Yes, Hutchinson is running. Right now, he's the forgotten candidate, but elections are long and everyone seems to get their moment in the spotlight.)
"I would support the restrictions, and I would advocate for the exceptions of the life of the mother and the cases of rape and incest," he told CNN last month. "I believe that's where the American public is. I don't think anything will come out of Congress without those exceptions. And I certainly would sign a pro-life bill, but I would expect those exceptions to be in place."
Exceptions to abortion bans are incredibly hard to use and require very intense burdens of proof—so in practice, they end up simply being total bans. Of course, Hutchinson is also ignoring the fact that nearly two-thirds of Americans think abortion should be legal, including more than half of people living in states won by Donald Trump in 2020.
Speaking of... Let's talk about Trump, who's never met a political stance he could stick to. In an interview with The Messenger, a newly launched news website, the former president commented on Florida Gov. Ron DeSantis (R)—and likely rival for the GOP nomination—signing a six-week abortion ban. "He has to do what he has to do," Trump said. "If you look at what DeSantis did, a lot of people don't even know if he knew what he was doing. But he signed six weeks, and many people within the pro-life movement feel that that was too harsh."

Reporter Marc Caputo noted that Trump himself wouldn't declare if he agreed with the "many people within the pro-life movement" regarding how harsh a six-week abortion ban is or isn't. (For the record, from any sensible person's perspective, isn't just harsh—it's cruel.)
This is typical of Trump: When asked repeatedly by the Washington Post whether he agreed with the six-week ban, he wouldn't comment. The Post also reported that the former president maintains it is a "states rights" issue and "not something he should focus his time on."
While DeSantis hasn't officially declared, he's signed increasingly more stringent anti-abortion laws, decimating abortion access in the southeast—though, so far, he's kept fairly quiet about it.
All of this flailing comes as anti-abortion groups want to make national abortion bans (of any kind) the standard in order to get an endorsement. Even back in October, shortly before the midterm elections, Susan B. Anthony Pro-Life America was mad that Republican candidates were focusing on the economy instead of abortion after overturning Roe v. Wade. "Pro-life Republicans must account for their policy positions on abortion," Mallory Carroll, a spokesperson for SBA, told Politico at the time. "With pro-abortion Democrats holding rallies specifically to talk about abortion, pro-life Republicans have an opportunity to present a strong contrast to that."
The group's position has only gotten clearer since then. In April, SBA's president said there is now a standard that Trump is running afoul of: "We will oppose any presidential candidate who refuses to embrace at a minimum a 15-week national standard to stop painful late-term abortions while allowing states to enact further protections," Marjorie Dannenfelser, president of SBA Pro-Life America, told the New York Times.
This goes against what voters actually want, though. In state-level votes since the Supreme Court overturned Roe v. Wade, efforts to preserve abortion access have prevailed. Yet Republicans are ignoring that fact—or don't care—and a growing number have committed themselves to looking indecisive and squabbling over deeply unpopular policies in public for the next 18 months.