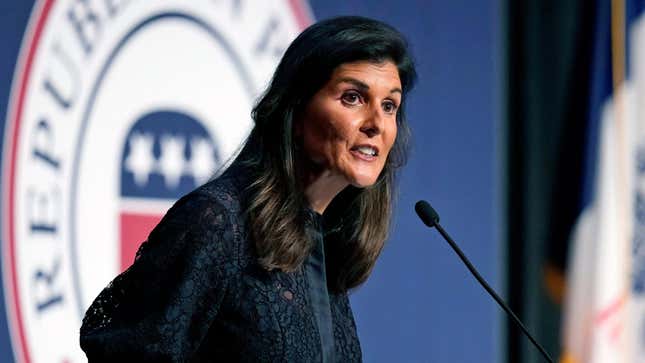 Update: "It's time for a new generation," said Nikki Haley in a video announcing her presidential campaign on Tuesday.
Ted Cruz Won't Commit to Pleasuring a Man to End World Hunger
"They all think we can be bullied, kicked around. You should know this about me: I don't put up with bullies," the former South Carolina governor and U.N. ambassador said. "And when you kick back, it hurts them more if you're wearing heels."
Because she's a lady ya see?
Haley will host a kickoff event in Charleston, S.C., on Wednesday, making her the first official challenger to Donald Trump. 2024 is officially upon us.
Below is our original story:
Nikki Haley—former South Carolina governor and United Nations ambassador—is set to announce her intentions to run for president later this month. Barring any other last-minute eager beavers, Haley will be former President Donald Trump's first official challenger for the 2024 Republican nomination.
Personally, I will always remember Haley for her steadfast belief that "women don't care about contraception." When on The View in 2012, Haley made that bold statement to a room full of women who...seemed to disagree.
Haley said:
All of my policy is not based on a label. It's based on what I've lived and what I know: Women don't care about contraception. They care about jobs and the economy and raising their families and all of those things.
When host Joy Behar pushed back (because obviously people care about contraception, whether you want to plan for having children or not), Haley backpedaled. "While we care about contraception, let's be clear, all we're saying is we don't want government to mandate when we have to have it and when we don't. We want to be able to make that decision," she said.
Ohhhhhh. Got it, got it. As long as we make the decision that Haley herself would chose we'll be good to go!
Haley's more recent, public statements will not inspire any more confidence in her ability to be the leader of the free world. Let's roll the tape:
Away from her public policy arena, Haley is also a poster, but not a fun one. In August 2020—while we were all suffering under a global pandemic—Haley used her 600,000+ follower Twitter account to blast a popcorn company. Her "#disappointednephew" didn't get his birthday popcorn and Haley had to let the world—which again, was suffering during a global pandemic—know not to buy from them ever again!
While supporting eventual failed Senate candidate Herschel Walker last year, Haley said that his opponent, Sen. Raphael Warnock, a Black pastor, should be "deported." The full context is even worse: "Legal immigrants are more patriotic than the leftists these days. They worked to come into America and they love America. They want the laws followed in America. So the only person we need to make sure we deport is Warnock," she said to a cheering crowd.
Then there was the time that Haley claimed, "We've never, in the history of this country, passed any laws or done anything based on race or religion." What? Huh? A person who has seriously claimed this and ignored the entirety of American history should not be allowed near public office.
Needless to say, it would be incredibly ironic if this ended up being the woman who broke that big glass ceiling.