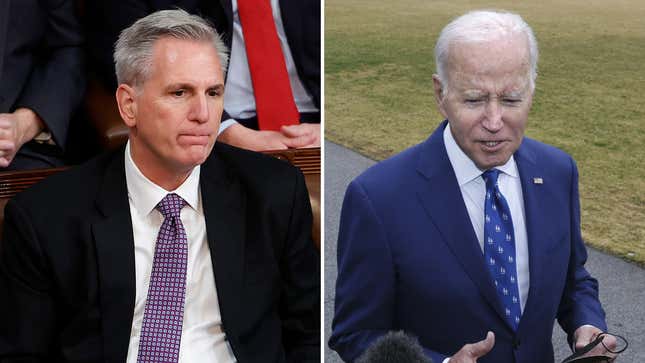 As of publication, Rep. Kevin McCarthy (R-Calif.) had lost a fifth vote to become speaker of the House on Wednesday—this time enough Republicans voted for Florida Rep. Byron Donalds—but he's still walking around the chamber, mingling, smiling and (presumably) attempting to whip votes. President Joe Biden, meanwhile, has no such prerogative to keep private his thoughts on Republicans' inability to elect a leader.

GOP Congressman Spent His Sunday Daring Biden to 'Come and Get' His Guns
Biden called the GOP's fight "embarrassing" as he was leaving the White House to attend an event in Kentucky about the bipartisan infrastructure bill. "With regards to the fight over the speaker…that's not my problem," Biden told reporters. "I just think it's a little embarrassing that it's taking so long."
"Look, how do you think this looks to the rest of the world? We're finally...really getting through all issues relating to January 6th. Things are settling out. Then now for the first time in 100 years, we can't move? I really mean it. I know, you know international relations. This is not a good look," Biden told reporters. "It's not a good thing. ...I hope they get their act together."

Look, it's not as if other countries have their shit together. The U.K., for example, just had a prime minister who lasted for 4.1 Scaramuccis.
But despite his admonishment, Biden had little to say about the consequences; he merely shrugged when a reporter asked him about that potential impact of not having a House speaker for a week or even a month.
Meanwhile, Democrats are standing firm. For every ballot, they've nominated Rep. Hakeem Jefferies (D-N.Y.) for speaker, and they've given him 212 votes every time. As far as Biden, the head of the Democratic Party, is concerned, his party is in line.
On Tuesday, Republicans breaking with the party line voted primarily for Reps. Andy Biggs (R-Ariz.) and Jim Jordan (R-Ohio). On Wednesday, they switched to Rep. Byron Donalds (R-Fla.), who is set to be sworn in for his second term in Congress—but swearing-in ceremonies can't take place until the House has a speaker.
Because McCarthy seems to have a public humiliation kink, it seems we'll continue to be subjected to these votes. Hopefully they at least start getting a little spicer in between roll calls. Let's mic-ing up these members of Congress as if they're NBA players on ESPN during a playoff game. Let's get them to start yelling and laughing at each other like it's the House of Commons. Let's add some spice to this embarrassing process.