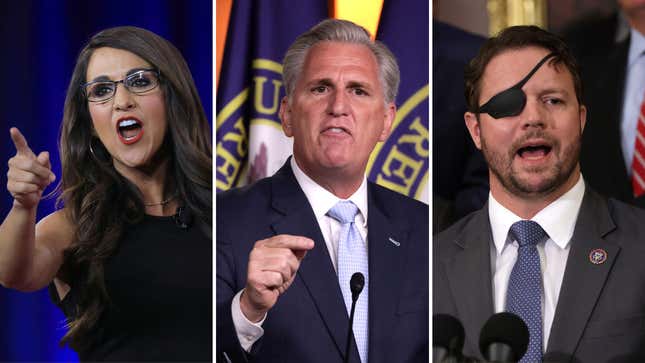 Update, 3:20 pm: After a morning of chaos and infighting, Rep. Kevin McCarthy (R-CA) lost both the first and second votes to become House Speaker. Republicans are leaderless as they take control of the lower chamber.
Anita Hill, Like Many of Us, Thinks Clarence Thomas is Full of Sh*t
Previously:
Republicans spent most of 2022 giddy about a red wave that never materialized, due in part to voters being ripshit pissed about the Supreme Court overturning Roe v. Wade. The party lost a Senate seat (thanks, John Fetterman) and only squeaked out a four-seat majority in the House of Representatives. In recent weeks, they've played the blame game out in the open while fighting over the direction of the caucus and also dealing with the lying scandal of a newly elected representative. Republicans are in disarray!

Now, it's day one of the GOP taking control of the House, and the caucus is already an absolute trainwreck. Kevin McCarthy (R-CA) is desperately trying to get the 218 votes needed to become Speaker of the House, mainly by threatening to strip members of their committee positions if they don't vote for him—and it's looking quite bad for him. He might lose as many as 20 votes on the first ballot, with some members voting instead for Majority Whip Steve Scalise (R-LA). Hilariously, McCarthy has already moved into the Speaker's office and will have to move out if he loses the vote.
McCarthy faces opposition from the far-right Freedom Caucus, whose members include many of the worst assholes in Congress, like Rep. Matt Gaetz (R-FL), Rep. Lauren Boebert (R-CO), and Rep. Marjorie Taylor Greene (R-GA). But Greene still supports McCarthy, which has led to a public feud with Boebert.
Boebert, who, we must note, nearly lost her reelection in what was considered a safe Republican seat, chose to heckle McCarthy this morning during a House GOP meeting:
Speaking to reporters, Gaetz implied that McCarthy was an alligator(??).
And Rep.-elect Dan Crenshaw (R-TX), no liberal squish, is throwing bombs at people like Boebert and Gaetz who oppose McCarthy, calling them "enemies" and "narcissists."
McCarthy can at least count on one high-profile vote: that of Rep.-elect George Santos (R-NY), who admitted to lying about his entire biography. Brazilian prosecutors announced Monday that they're reviving a check-fraud cause against Santos, who today ducked questions about himself but told reporters he'd vote for McCarthy. Congrats, Kevin.
There's even more nonsense going down, including thanks to Trump himself, who claimed on Sunday that Republicans' hardline stances on abortion—not his own toxic brand—are what cost them the Senate and a larger House majority. Trump did this without a whiff of irony, given that he nominated three of the Supreme Court Justices who overturned Roe. Those comments prompted a dig from a prominent anti-abortion group.
Oh, and, Roger Stone called Steve Bannon a "fat Johnny Cash."
All of this chaos is great news for potentially turning off even more moderates and independents from voting for Republicans—that is if they aren't simply voting based on tax rates. In the meantime, we're all stuck watching these clowns eat each other on C-SPAN.