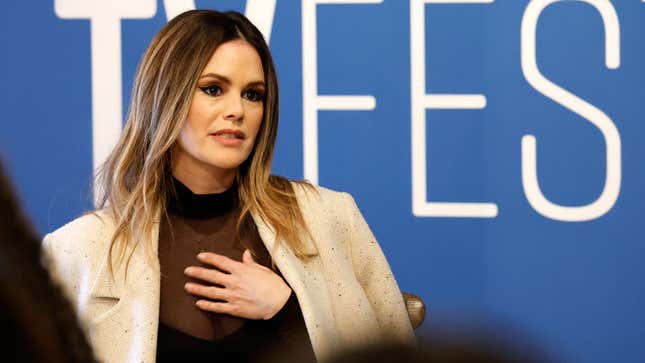 According to Rachel Bilson—"a single mom, a woman"—she is paying the price for sharing her sexual interests publicly. "I basically got a job that I already had pulled from me because I was speaking openly about sex," she reported on this week's episode of her Broad Ideas podcast.
Jennifer Hudson Achieves EGOT Status, is True American Idol
You'll remember that earlier this month on the Women on Top podcast, guest Bilson reported that of sexual positions, "Missionary is my favorite. I want to be fucking manhandled." About this, my colleague Emily Leibert proclaimed in a headline, "I'm Happy for Rachel Bilson and Her Love of Vanilla Sex." Me too! (Or at least, I was.) You may also remember that Bilson reported on her own podcast, Broad Ideas, in March that she didn't orgasm from vaginal sex until 38, and that last year, she said that she missed her ex Bill Hader's big dick.
Well! Now she's talking about talking about sex, specifically about how doing so cost her an unspecified role in an unspecified project that she had been cast in, which left her "baffled."
"This is the first time it's ever happened to me in my professional life … I lost a job this week because of things that were said and then spun in the press," she said on the most recent Broad Ideas episode. Bilson attributed the about-face specifically to her comments about loving missionary and wanting to be manhandled. "Because that specific line was pulled and it made it sound a certain way, I didn't even have a chance to defend myself, I didn't have a chance to speak about it," she said.
"A single mom, a woman, lost a job because they were being candid and honest and the subject was sex," she said. "I'm a single mom, like, I need these jobs ... everything counts. You know, I provide a lot for my family—my daughter—and regardless of anything else, it all matters."
Bilson chalked the situation up to "clickbait" repeatedly, saying, "I think it was a conservative brand when it came to light, and they said they weren't comfortable with that headline [about being manhandled] and if they keep Googling they'll see the other things I've commented on, which was orgasms, and I'm just like, I feel like it's discrimination…I was floored. I cried." She said the decision made her feel "shamed by this company."
On being outspoken, Bilson said if she could go back, she might change her verbiage but not her message: "I haven't said anything inappropriate. Like, choice of language, if I could go back, now knowing I lost a job, maybe I would say it differently. But I still wouldn't not say it."
Bilson denied that vulgarity was her brand, message, or narrative, but she did concede: "I just don't want such a stigma or things to be so taboo when everybody talks about this with your girlfriends, or maybe some people don't. That's fine, that's a different…whatever. But like this is what we do and we want to be accessible and relatable because we're human."
Two words for Bilson: Name. Names.
---
I want to show you something.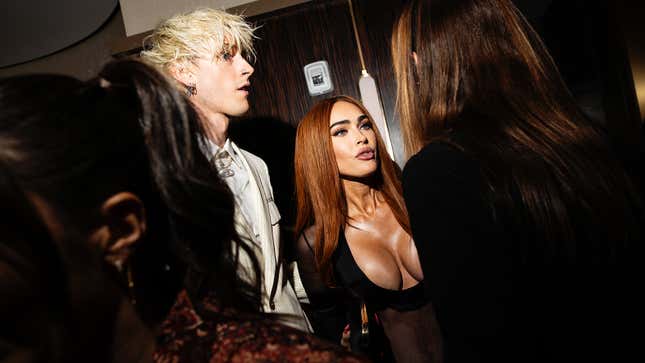 This is Thursday night at the launch party for the Sports Illustrated Swim Issue (in which Megan Fox appears) at New York's Hard Rock Hotel (which I didn't even know New York had!). You can see Fox's once-suspected-to-be-ex fiancé Machine Gun Kelly accompanied her. ET reports: "When asked about Fox's cover photo, MGK had one word for ET's Rachel Smith: 'Hot.'" Great.
If I'm being cynical, it sure seems like a good way to get people to follow your every move as a couple is to make a very big public display that seems to indicate a breakup and then just...stay together. It works! Look at us looking.
---