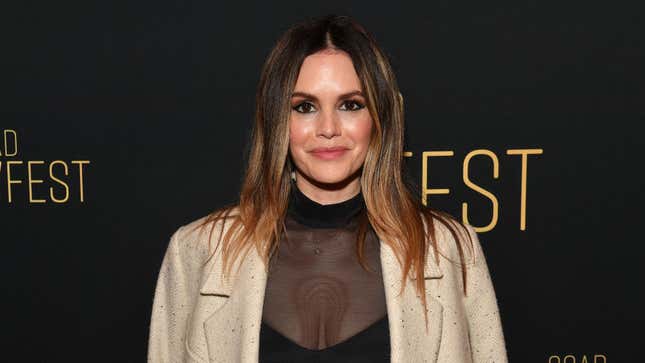 Rachel Bilson was 22 when she first starred on the beloved, soapy teen show The O.C.—but it wasn't until 20 years later that a certain mystery man helped her put the Big O in O.C.: On Monday's episode of Bilson's podcast Broad Ideas, the actor revealed in conversation with comedian Whitney Cummings that she didn't orgasm from vaginal sex until she was 38 years old. "Isn't that crazy?" she said.
Rachel Bilson Says Her Daughter Can't Watch 'The O.C.' Until She's 35
Cummings—who swapped a similar story, telling Bilson that she didn't orgasm during sex until she got off birth control this past year at age 41— clarified that [she] "could do it with my hands whenever." Bilson, currently 41, added, "Of course, yeah. But not from, like, dick inside."

A quick recounting of dicks in Bilson's past gives us the following timeline: She dated her O.C. co-star Adam Brody from 2003 to 2006. She then dated her Jumper co-star Hayden Christensen, with whom she shares a child, from 2007-2017. Then, over the past four years, Bilson was linked to Bachelor podcast bro Nick Viall, Bill Hader, and most recently, artist Zac La Roc.

Let's do some math, shall we? Rachel Bilson is 41 in this blessed year of 2023, and will turn 42 on August 25. Now, if we count backwards using our fingers, that means she turned 38 in August of 2019. And who was she dating roughly from the fall of 2019 to summer of 2020? None other than Bill "Big Dick" Hader.

If you might recall, in another episode of her podcast in August of last year, guest Tommy Dorfman asked what Bilson most missed about her ex Hader. She responded, eloquently, "his big dick." They both laughed, and then promptly moved on. This makes the theory that Hader, who seems to get around with Hollywood's A listers, was the one to give Bilson her first vaginal orgasm even more enticing; he is one of the founding members of the celebrity BDE club, after all. (One small wrench in this theory: Bilson was also linked to Viall that year, and I will issue a public apology if that man turned out to be hung enough to give a respected actor her first dick-induced orgasm.)

Bill Hader's dick aside, it's refreshing to hear women talking about sex—the highs and the lows—without a filter. The orgasm gap between men and women is well-documented: We've long raged about the fact that most heteronormative sexual encounters place male pleasure at the center of the interaction. But there's a bizarre sort of solidarity in knowing that this problem extends to some of the most famous, conventionally attractive women on earth. And it's similarly comforting to know that famous, conventionally attractive men weren't able to get their partners off—just like their normie counterparts.

Women deserve pleasure at all ages, and it's OK if that pleasure—which is a human right, I tell you!—came later in life like it did for Bilson. I hope you have a million and one more orgasms during intercourse, Rachel! I hope that's not weird! Happy Os!