I love New York! I grew up here; it's a helluva town. But last night's episode — in which the designers had to come up with ensembles inspired by Manhattan neighborhoods — made NYC look like a dull, colorless place.

The "twist" was that the designers had to work in teams. Jay and Mila were paired together, though they dislike each other. Their hood was the East Village.


Jonathan and Amy had the Upper East Side — Gossip Girl territory. Their garments were complicated, with tons of techniques, and Jonathan predicted they would not finish in time. That was the only source of drama in this episode!


Even Tim Gunn seemed bored and over it.


Anthony and Maya had fun visiting Chinatown, but Anthony pointed out that Maya has "control issues." Of course she does! Have you seen her hair? Not a strand out of place. Ever.


"Old Grandmama" actually sounds awesome.


Did you catch the tic-like eyeflutter Heidi Klum experienced when forced to look directly at a garment made by Amy?
G/O Media may get a commission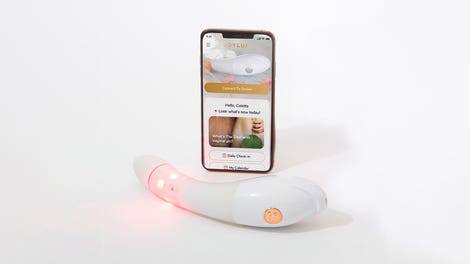 $50 Off
Joylux vFit Gold Device


Heidi always gets animated when talking about boobs, however.
Highlights and lowlights of the runway:

When Mila's "East Village" look hit the runway, my boyfriend fumed,"Why is she still on there? She does the same bullshit every week. Black and white." Truth! However, the judges thought this was sharp, and Mila was safe.
Nina Garcia seemed personally offended by Jay's "East Village" tank top. The pants! How many women in the world who are not models can pull off those pants? Jay was safe, however.
Anthony's "Chinatown" dress was inspired by a paper dragon. He and Maya didn't want to be "too literal," but I think the accordion detail should have been red. New York is colorful! Anyway, Anthony was safe.
Nina Garcia loved Maya's "Chinatown" day look, even though Anthony was right; it could skew nighttime. Maya was also safe.
Emilio's "Harlem" dress was supposed to be "modern Billie Holliday." It looked kind of cheap and understated to me — Harlem is exciting! And bold!
SHOCKER: Seth Aaron made a jacket. It was as amazing and tough as his hat was embarrassing and hideous. Seth Aaron and Emilio were the winners of this challenge. No, really.
Nina thought that Jonathan's Upper East Side dress was too detailed and completely overworked. But he was not sent home.
Instead, it was Amy who got the auf Wiedersehen. Kind of sad! She had some interesting ideas; I thought she would go a lot further. Her hardware store dress — made of sandpaper — was beautiful. Her fluttery crazypants were innovative, and could have been amazing in a solid color. The little print dress she made for Heidi was also very pretty; as was her burlap petal dress. The museum gown? Fierce. And she won the red dress challenge.
I was expecting her to be in the final four, but now I'm guessing Anthony, Seth Aaron, Maya and Jay. Who do you guys think will be the last ones standing?
[Runway images via MyLifetime.com]