Last night's episode involved visiting a classic New York city landmark: A farm.
The challenge was to design a party look using a potato sack. (Yay! My favorite challenges are the ones with unexpected fabrics!) The models were the clients, and each model got to choose the designer who would create her dress. Most of the models chose designers they had already worked with. Jay was so excited when his model picked him that he did a cartwheel in the farm soil, which Tim Gunn found distasteful.


Mila's model chose to work with Anthony instead of going back to Mila, which made for some tension in the workroom. Mila did a little bit a of shit-talking. Anthony kept his cool, but later, in an interview, said: "Mila can kiss me and my entire family's asses." Restrained!


Ping continued to be Ping. She can turn on a dime, from doing a "Yes, I know, I'm always intriguing" dance to being simply SHOCKED that her dress might reveal the model's asscheeks.


Meanwhile, Jesus was SHOCKED that covering his sack with ribbons wasn't exactly in the spirit of the challenge.


The idea of buttons on a cocktail dress make Anthony's eyes roll way up into the back of his head.
G/O Media may get a commission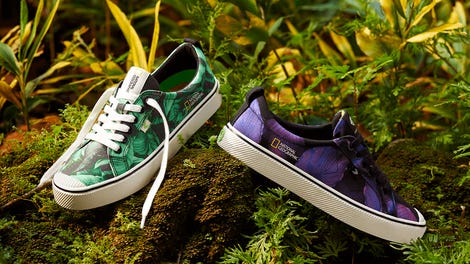 New New New
Cariuma + National Geographic


On the runway, Ping's dress caused a sensation, because Michael Kors, Hedi Klum, Nina Garcia and guest judge Lauren Hutton got a good look at the model's ass crack. Or, as Ping said, "Her buttocks is revealed." Heidi was intrigued; Lauren Hutton was bemused; Nina was annoyed.
On to the lowlights and highlights of the runway:
Ben's dress looks okay here, but on the runway, his model appeared to be four or five months pregnant.
Jonathan was not in the top three, but I liked his lacy sheath.
Emilio did the same layered strip trick he did in the previous challenge. It looked good, though. He had immunity, in any case.
Jesse was the only one who made pants. Brave.
Anthony was not in the top three, but I thought his cocktail dress was SHARP.
Amy's organic petal dress landed her in the top three.
Mila's model switch paid off in the end: Her sleek, futuristic dress earned her a spot in the top three. Michael Kors didn't like that the bust gaped open, but Heidi did. Her eyes got all wide and her hands got all restless when she talked about "boobies." Click here to see!!!
Jay was the winner of the challenge, with a floaty little frock that did not look like a burlap sack.
Even though the judges were disappointed in the fit, technique and concept of Jesus' dress, he was in.
No one liked Ping's dress, but Heidi asked, "The question is, do we want to want to see more from Ping?" The answer was yes. Ping stayed in.
Poor Pamela. Her unflattering denim dress got her auf'd.
Project Runway [MyLifetime.com]