Last night's episode was the one I've been waiting for. Thinking outside the box! Using nontraditional materials! Making models look like half-naked '60s go-go girl Barbie dolls!
The challenge involved the final ten contestants taking a trip to the hardware store, and having to create a garment — and an accessory — with items like copper, washers, bolts, screen and paint trays.


Emilio had a great idea. Paco Rabanne can be awesome. Unfortunately, his materials were pricey, and he didn't have enough to work with. So he couldn't, you know, make an actual outfit. He just had washers woven into pink cords. I think strippers actually wear more.


Anthony also struggled with sewing non-fabric materials. In addition, he continued to be adorable. more lovable here.


Wise words from Anthony: "The one thing that never goes out of style is making a woman look like a lady." Don't forget, he loves the Miss Universe pageant! But he doesn't care for Miss America.
G/O Media may get a commission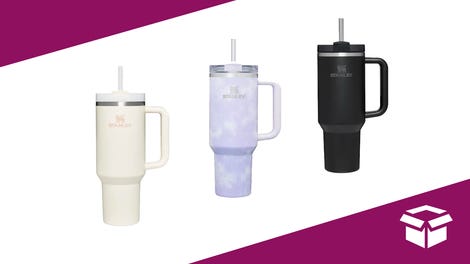 Up to 45% off
Stanley Cup Sale


On the runway, Emilio's "bathing suit look" was literally hanging by a thread. Nina Garcia said she "liked the full effect," but Michael Kors called it "cheesy."


Anthony ran into some trouble with the judges as well: Michael Kors called Anthony's garment a "bad prom dress," and Nina was — gasp! — bored. Don't bore Nina!
Highlights and lowlights from the runway:
With its mirror-like belt and fabric flowers, I liked Anthony's dress. Sue me.



Amy did an excellent job, and something tells me she'll be in the final four. She keeps making cool shit.
Heidi Klum felt that she could see Maya's outfit on the pages of Marie Claire. The key necklace was absolutely gorgeous, and I want it.
For once, Mila's color-blocking wasn't annoying. Her graphic, black and white dress could be in a No Doubt video. Nina called it "extraordinary." Guest judge Isabel Toledo said, "Bravo!"
Jay Nicolas blew everyone else out of the water. Leather pants made from bias-cut trash bags? Genius. Heidi called it "amazing," and guest judge Stephen Webster noted that Jay "made a luxury product out of the least luxurious thing." Jay was the winner of the challenge.
Nina said of Emilio's Barbarella lingerie, "I don't think it was so bad." He was safe. My guess is, he's done such great work in the past, they felt like keeping him around.
Jesse, on the other hand, has been inconsistent. The judges called his dress a Tin Man Hershey's Kiss dirty vacuum bag costume, and that was the end of Jesse. Auf Wiedersehen!


Any last words, Anthony?