Last night's episode involved a trip to the Metropolitan Museum of Art, where the designers saw exquisite gowns — YSL, Balenciaga, Dior — from the Costume Institute. Then they participated in that hallowed NYC tradition: Throwing someone under the bus.
The editors of the show are storytellers, and storytellers use foreshadowing. So right away: Something was up with Ping.
Or perhaps "down with Ping" is more accurate.
The good news? The designers had a whopping $500 — "the most ever in Project Runway history, according to Tim Gunn — to create a "signature look." The bad news? They had to work in teams. Ping and Jesse had issues with each other from the get-go.
G/O Media may get a commission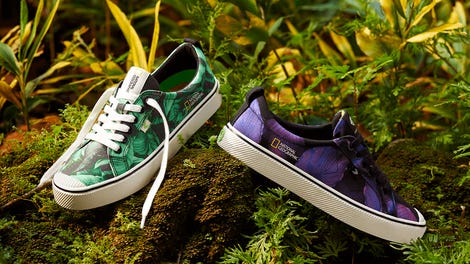 New New New
Cariuma + National Geographic



An example of a conversation:
Jesse: "You want this one yard, right Ping?
Ping: "Where is my sketchbook?"


Ping may be wacky, but does that give Jesse the right to be disrespectful to her? With a free spirit like Ping, being rude and derogatory just seems mean, because she can't help who she is. He belittled her, and it made her sad.


Also sad: The fact that Anthony knew that the dress he was working on with Seth Aaron was awful before they'd even finished. He declared it "for the Vice President of McDonald's." Sad, yet hilarious!
In a classic Project Runway twist, Tim Gunn announced the designers would have to create an additional look. (For $50, and inspired by another team's "signature piece" — a "look for less.") The reaction shots were amazing: Ping's jaw dropped.
Jay was in shock; Maya was all, "Fuck my life."
Seth Aaron: "Dude. No."
Emilio: "Someone please hold me. I'm so cold."
The crier: "Don't cry. Don't cry. Don't cry."


Don't these people look like they're standing at a fashion bus stop? On the runway, Michael and Nina tore into Jesse and Ping's dresses. Of the random fabric spilling out of the "signature look," Nina spat with disdain: "It's a tail, basically… It's just a bunch of fabric wrapped around a model." Michael said the model needed to stand like the Statue Of Liberty to wear the dress, and of the "look for less," he said: "I don't think anyone designed anything." Then Jesse announced that progress on their garments was slow because he had to "teach sewing lessons" to Ping. She looked so defeated and crestfallen! On top of that, the model, Megan, announced that she'd never had a fitting with Ping. Ping, meet bus.


The judges did not like Seth Aaron and Anthony's dresses either. And I'm pretty sure Heidi mocked Anthony's accent. The pièce de résistance was Classic Nina: "They're both really ugly."
Highlights from the runway:
Jesus and Amy's signature piece: Fierce.
Emilio and Anna's swingy little dress was cute.
Janeane and Ben made something sleek and hot.
Maya and Jay created something visually stunning and red carpet-worthy. I could see Heidi wearing it!
Mila was the winner. She and Jonathan made separates, which is cool, I guess, but this '60s inspired Courreges-esque coat is basically the opposite of all my fashion fantasies. Adds volume and bulk up top, looks like a penguin? No thanks.
Yeah; no.
Team Anthony/Seth Aaron and Team Ping/Jesse were in the bottom 2, but Ping's design was definitely the worst. So Ping was sent home. She made a tearful exit speech.



But let's remember her like this, instead. Oh, shooz! indeed.
Project Runway Season 7 [MyLifetime.com]