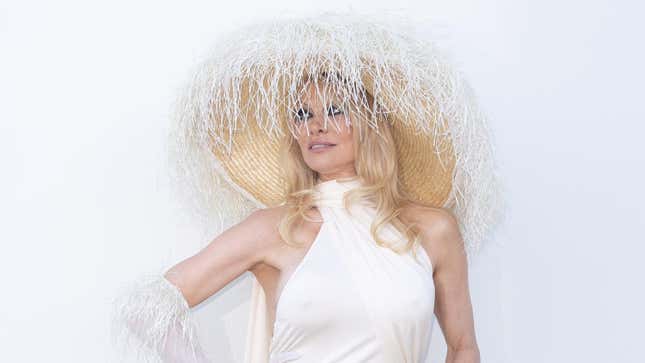 Let's get one thing crystal motherfucking clear: After everything she's been forced to endure, Pamela Anderson deserves a life of leisure. This is a woman who's been used, abused, and confused by Hollywood, the public, and men who almost certainly did not deserve her. If she weren't laid up on a wraparound porch, sipping rosé, and swaddled by mother nature's embrace, I'd simply riot—but fortunately, I don't have to.
Jennifer Hudson Achieves EGOT Status, is True American Idol
Per a new excerpt of her forthcoming memoir, Love, Pamela—due the same day as the premiere of her Netflix documentary, Pamela, a love story—Anderson reflects on her failed marriage to Tommy Lee ("the hardest, lowest, most difficult point of my life") and the theft and distribution of that private tape ("It ruined lives, starting with our relationship—and it's unforgivable that people, still to this day, think they can profit from such a terrible experience, let alone a crime"). The most heartening part of the excerpt, however, is Anderson's description of what life looks like on the other side of all that aforementioned trauma: She's single, satisfied, and shacked up in her grandparents' former farmhouse that appears right out of a storybook, and it sounds deservedly idyllic.
"I live a more romantic life now that I'm alone than I did in relationships," she says. "l light my candles, have my music playing. I have my piano. I'm sure it would be lovely if someone else was in my life and wanted the same thing, but I've just never met them. It's usually about catering to them, and there has to be a balance."
"I don't need someone to bring me roses," Anderson continues. "I've just planted a hundred rose bushes. I can get them any time I want—and they're my favorite roses." That's right. To borrow from Ms. Cyrus, she can grow herself flowers.
Anderson renovated the property on the absolutely delightful HGTV Canada series, Pamela's Garden of Eden, which sees the actress—and a noticeably handsome crew—transforming it into "the coolest grandma house ever" in a mere eight episodes.
Apart from a sprawling garden, there are several outdoor seating areas—including a heated porch—fit for reading, writing, and basking in one's own badassery on wicker furniture, a cabin for guests with sweet floral wallpaper, and a potting shed that's nicer than my apartment. Oh, and a charming little rope swing, because hey, why not lean all the way into a modern, Canadian take on the Practical Magic home.
While this is the kind of property that could easily lend itself to my Pedro Pascal fantasy—the one where we just hang out, eat cereal in bed, and never have kids—it could just as easily suit the alternate reality where I befriend Pamela Anderson, move into her potting shed, and spend weeks walking around barefoot in loose linen gowns, cooking plant-based meals with ingredients grown in the garden, slurping midnight margaritas, and giggling about all the dudes we don't talk to anymore. Because what could be more romantic than living a quiet life in a pretty house with a good gal pal? Well, per her own admission, living a quiet life in a pretty house all by yourself.
Pam, if you change your mind, my cat and I can be move-in ready by EOD.