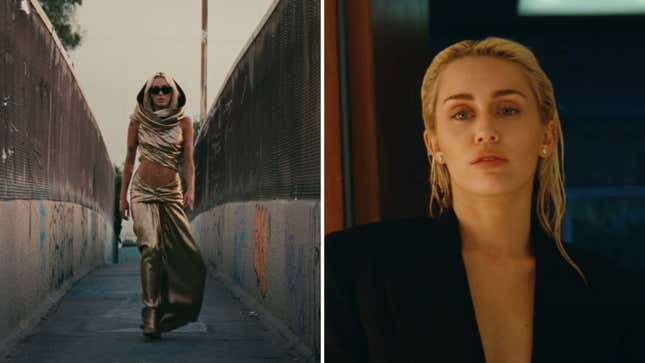 I am well aware that there's probably an entire war room of publicists, digital marketers, and music industry executives who have forced this message into our brains, but goddamnit, this really is Miley Cyrus' year, isn't it?

Taylor Swift's Rep Thinks You Need to Calm Down About Her Private Jet
The Disney star turned pop princess turned rock star turned whatever we're calling this latest Miley cocktail dropped her new single, "Flowers," on Thursday night. The playful track is the first release from her heavily-teased upcoming album Endless Summer Vacation, due out on March 10. Though joyous and hopeful in tone, the song is none other than a diss track to Cyrus' ex-husband Liam Hemsworth. "We were good/ we were gold/ Kind of dream that can't be sold/ We were right 'til we weren't/ Built a home and watched it burn," Cyrus sings, a double entendre referencing what appears to be a fiery end to their nearly decade-long relationship, as well as to the Malibu house Cyrus and Hemsworth shared together, which literally burned down in 2018.
She also dropped the song hours before Hemsworth's birthday, which makes the line "No remorse, no regret/ I forget every word you said" all the more maleficent. A sick burn, if there ever was one.
Cleverly, the song also appears to make reference to Bruno Mars' 2012 song "When I Was Your Man," retooling his yearning and remorse into self-sufficient proclamations like, "I can buy myself flowers" and "I can love me better than you can." Though, I must admit my favorite line in the entire song, dripping in disdain, is "Talk to myself for hours/ Say things you don't understand." Because who among us hasn't dated someone that misunderstood our entire being, rendered our passions lifeless, or simply chose not to learn about the topics that mattered most to us? This is Miley's legacy: allowing us to look back at scorned lovers who never cared to begin with and sigh, "Don't worry, sweetheart, you couldn't possibly understand it, anyways."
While the lyrics alone are full of subtext, it's the video that brings the song to life. Cyrus waltzes across a Los Angeles freeway and up a long driveway in a golden vintage 1991 Yves Saint Laurent dress and a messy bun she fashions herself. She strips down to her bra and underwear while getting pelted by lawn sprinklers, goes swimming in her pool, then gets out and immediately starts ripping at some battle ropes and doing bear crawls. (There is no Miley Cyrus without a faint, sometimes charming level of cringe—may I direct your attention to the "23" lyrics, "I'm in the club/ high on purp/ with some shades on/ Tatted up/ mini skirt/ with my J's on?")

To call "Flowers" an empowerment anthem would cheapen its message. I actually hate the terms self-love and self-care because they sound so forceful—like affirmations shouted at a reflection of yourself in the mirror until robotic repetition seeps into your morning routine. I prefer, instead, the idea of mothering yourself. That's what I see as Cyrus allows herself to dance around the mansion that belongs solely to her in a men's blazer as though she's Amanda Seyfried in The Dropout. The act itself is childlike and free, but the permission to do so—the space provided to be alone—is an adult decision: the sort of limitless love we've come to associate with our matriarchs.
Surely this "New Year, New Miley" era will come to a close just after the album promotion ends. But for now, I'm going to delight in her contagious act of being a little freak. Maybe I'll dance around naked in a blazer tonight, too.